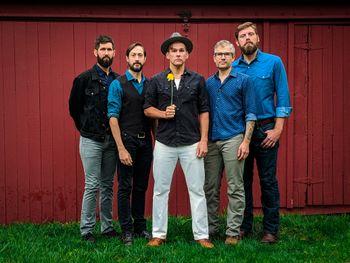 May 1st- The Steel Wheels-"Few groups have come as far in such a short period of time as The Steel Wheels…" – NPR's Mountain Stage
"What sets The Steel Wheels from the Blue Ridge Mountains of Virginia apart from many bands is the combination of their stellar instrumentals, accentuated by the one of a kind lead vocal of [Trent] Wagler, and keenly supported by strong harmonies. Eric Brubaker on fiddle, Jay Lapp on mandolin, and Brian Dickel on bass weave in and out intricately throughout this record, painting vivid imagery which flows effortlessly, just teasing the lyrics enough to allow them to resonate within you." – Country Standard Time.
Simultaneously familiar and fresh, The Steel Wheels bring a singular energy to every note they play and sparkling craft to each song. This potent combination, paired with a robust tour calendar, have made the veteran band hands-down favorites of fans and peers alike. From their base in Virginia's Blue Ridge Mountains, The Steel Wheels have played the most prestigious festivals, listening rooms, and clubs in the world, earning a reputation as one of the top independent bands on the scene today.
General Admission
Doors open at 7:30/Music at 8pm
Pre-Sale- $27/ Day of show- $32
THIS SHOW IS SOLD OUT!  Thanks so much!