The Peninsula Foundation supports the Arts Community by presenting Voices in the Valley, a showcase of traditional roots music. So kick back, relax and join us for a night of music in the Historic G.A.R. Hall. Beer, Wine and adult beverages available.
Specialty flatbread pizzas, cheese plates, snacks and desserts available from Chef Ron Ramos, so come hungry!
Parking for the G.A.R. Hall is located directly across the street on the South West Corner of Route 303 and Riverview Road. There is handicap parking located directly in front of the G.A.R. Hall. Alternate Parking can be found 1 block away at Yellow Creek Trading Company after 5pm.  Or at Riverview Court (Ohio Hardwoods) on the Southeast Corner of the intersection of Route 303 and Riverview Road. Parking in Peninsula is always at a premium so if you are coming with friends, consider sharing a ride.  Thanks!
If you are looking for a way to sponsor the arts, please consider helping support the Voices in the Valley music program at the historic G.A.R. Hall. Operated by the Peninsula Foundation, this program features local and national touring musicians in the intimate setting of this beautiful, grand old hall. Your donation is tax deductible and very much appreciated. Thank you in advance for supporting the arts and arts programming in N.E. Ohio!!!
February 7th- Becky Boyd and the Groove Train-"Becky Boyd, a singer of such strength, she could make a lot of 'No Girls Allowed' signs get ripped off the clubhouse doors… She possesses a powerful blues/jazz voice that's forceful, sensuous and as clear as spring water. If there's a jazz buff in the Cleveland area who hasn't heard Boyd sing yet, do something about that. She has got the art of scat singing down cold. Becky Boyd is a local talent to watch." – Steve Byrne, Scene Magazine- Well…that pretty much sums it up!! Becky Boyd is a force…one not to miss. She is both talented and entertaining and we just love her at the Hall. Don't miss the opportunity as she rolls into town with her band the Groove Train.
Perhaps the most under-rated voice in Cleveland. For those of us who know Becky…we are all devoted! Come out and support her and her incredible band, The Groove Train.
General Admission
Doors open at 7:30/ Music at 8pm
pre-sale tickets- $12/day of show- $15
Purchase Tickets on Eventbrite
February 8th – Cats on Holiday Pre-Mardi Gras party– Cats On Holiday is a Roots-based, Swamp Pop band that has been pleasing audiences for nearly 20 years with their own special blend of Texas and Louisiana inspired Blues, Rock, Roots & Zydeco, infused with healthy doses of original songs and poetry about urban life. They perform throughout the year at the best live music venues in Northern Ohio, upstate New York and the Lake Erie Islands. So come get your Mardi Gras on with the Cats!
General Admission
Doors open at 7:30/Music at 8pm
$15 pre-sale/$18 day of show
Purchase tickets on Eventbrite
February 11th –  G.A.R. Grass Jam– Join us from 7-9 every 2nd Tuesday as we host a Bluegrass Jam Night! Paul Kovac and David Mayfield will be your hosts. All ages and skill levels are welcome and encouraged. We have 3-5 separate break out rooms so you can pick your jam. You are welcome to bring your own food to munch on, the bar will be open.Listeners welcome!  A $5 donation is appreciated.
February 14th- David Mayfield Alive and Alone Tour– So I know, you are used to seeing David with a band, or with a trio, or in a duo, but have you ever seen him alone, all by himself,
This is going to be a fun and special night where David gets to show off a bit! He'll be singing some of his tunes, some of his all time favorite tunes and playing a variety of string instruments. Catch one of Northeast Ohio's treasures, David Mayfield. Bring your sweetie or come alive and alone yourself! This is going to be fun!
General Admission- Doors open at 7:30/ Music at 8pm
Pre-sale-$15.00/ Day of show- $19.00
Purchase tickets of Eventbrite
February 20th- The Brother Brothers and Dead Horses- The Brother Brothers are identical twins Adam and David Moss, an indie folk duo from Brooklyn whose stunningly simplistic songwriting and evocative blood harmonies draw frequent comparisons to Simon & Garfunkel. The band debuted their first LP in 2018 on Compass Records, garnering critical praise from NPR, Rolling Stone Country, Billboard, Relix and more.
Hailing from the fertile land of Wisconsin, Dead Horses are known for front-woman Sarah Vos' "aching, haunting vocals" (No Depression), "evocative, empathetic storytelling" (NPR Music), and a sound that bridges indie folk and their own Midwestern approach to Americana. Lyrically, the band explores the human condition from personal musings to observations of the current American experience, taking notes from every person and city they meet along the road.
This is going to be such a great show…where we really highlight the songwriter and the songs they create. I LOVE both of these duos and I am sure you will too!!
General Admission/ Doors open at 7:30/ Music at 8:00pm
Pre-sale 20.00/ Day of show 25.00
Purchase tickets on Eventbrite
February 21st-Molsky's Mountain Drifters- Bruce Molsky, Allison de Groot and Stash Wyslouch – Tradition steeped in possibility-Molsky's Mountain Drifters packs a punch with three of the most captivating performers in the most recent generation of Old-Time and American Roots music. The band features Bruce Molsky, (Grammy nominated, revered Old-Time music ambassador and Berklee College of Music Visiting Scholar) along with guitar genre bender Stash Wyslouch (of the Deadly Gentlemen) on guitar and vocals and master of the clawhammer banjo, Allison de Groot (of The Goodbye Girls). These striking musicians have come together for a new sound within the traditional music genre through their audacious approach. "I was looking for a new voice," says Molsky, "a new avenue of expression using old time mountain music as the jumping-off point, but not being constrained by hard core traditionalism. Allison and Stash are showing me the way, just where the music is headed, in directions I never would have imagined when I started my own journey into the mountains a long time ago.
General Admission- Doors open at 7:30/Music at 8pm
Pre-sale -27.00/ day of show -32.00
https://www.mountaindrifters.com
Purchase tickets on Eventbrite
February 28th- Mike Marshall and Darol Anger-Mandolinist Mike Marshall and fiddler Darol Anger have no respect for musical boundaries. Former members of the fusion group, Montreux, they've each recorded in wide ranging settings from classical to jazz, South American music to bluegrass. Marshall's Modern Mandolin Quartet and Anger's Turtle Island String Quartet were paragons of eclectic folk classicism. Collectively, they chart a new kind of acoustic music that draws on tradition, but finds new trajectories
Darol and Mike have created their own way of speaking – through their instruments. A connection and a shared repertoire that goes very deep; developed over 35 years of music-making in a wide variety of music styles. It is very rare what these two have the ability to do in concert. A way of communicating through their instruments that is nothing short of breathtaking.
General Admission-
Doors open at 7:30/ Music at 8pm
Pre-Sale- $28/ Day of show- $33
Purchase tickets on Eventbrite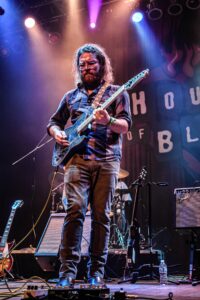 February 29th-The Thor Platter Trio –Cleveland singer-songwriter Thor Platter is a loyal purveyor of Americana music for many reasons. "The tradition and history of American music have influenced me my entire life; it encompasses many sounds and styles from many different eras," he explains. "Above all, it is just good music to your ears." Platter's gentle, affecting vocals – which have earned him numerous comparisons to Willie Nelson – are carried along freely by the accompaniment of banjo, harmonica, guitar and bass.
Thor is well known in the local music scene for his easy on the ears vocals. Joining Thor at the Hall for this event are Paul Kovac and Paul Lewis, the same artists that played on Thor's latest recording Aurora Ridge
General Admission-Doors open at 7:30/ Music at 8pm
Tickets only-$14 pre-sale/$18 day of show
Purchase tickets on Eventbrite
April 3rd- Griffin House-"If you are looking to be blown away by raw talent,then look no further than Griffin House." —American Songwriter
"Rising Star" is not a phrase one would normally use to describe an artist like Griffin House, who has been touring for more than 15 years and has recorded over 12 studio albums. The title of House's upcoming release, Rising Star, references the first track on the album which tells the story of a character who moves to Music City, like so many do, with a guitar and a dream.
Indeed, House's story began in much the same way. Moving to Nashville as a young man in 2003 with not much more than a guitar and a handful of songs, he took a part time job downtown at a Broadway gift shop, biding his time before he caught his big break. That big break came after just a few months, in the form of a phone call from Island Def Jam Records, which jump-started his career and led to him signing with CAA and Nettwerk Records.
After that, things happened quickly for House. His 2004 debut album Lost and Found was lauded by music critics such as Bill Flanagan (Executive VP MTV/VH1 Networks) who featured House on the CBS Sunday Morning show as one of the "best emerging songwriters." He began touring, opening for acts like John Mellencamp and The Cranberries, and found himself meeting people like Bruce Springsteen and Willie Nelson. By all accounts, House seemed poised to be more of an "overnight success" rather than a "rising star"… but that's not exactly how things turned out. "I've been a "rising star" for the past 15 years" House jokes, "It's a slow rise."
General Admission-
Doors open at 7:30/ Music at 8pm
Pre-Sale- $20/ Day of show- $25
Purchase tickets on Eventbrite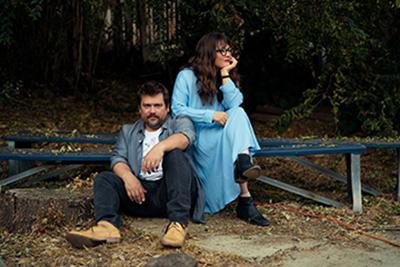 April 26th- The Watkins Family Hour- Returning to the studio as Watkins Family Hour, Sean and Sara Watkins consider brother sister a duo-centric record – yet one that feels bigger than just two people.
"From the beginning, our goal was to work on these songs to be as strong as they could be, just the two of us," Sara explains. "And with a few exceptions on the record, that's really how things were.
Moving from one landscape to the next – literally and musically — is nothing new to Sean and Sara Watkins, who have performed separately and together for nearly their whole lives. Growing up near San Diego, they played countless shows at a local pizza place in Carlsbad, California, with their childhood friend, Chris Thile. As young adults, those three musicians broke out nationally as Nickel Creek, an acoustic ensemble that sold millions of albums, won a Grammy, and toured the world.
"It felt really good to dig into the potential of two people," Sara says. The arrangements and the writing were all focused on that. Listening now, I'm really proud of what we did. These are songs that would not have come out of either one of us individually, and it feels like a band sound, like this is what we do, the two of us." However, brother sister remains exactly that – the result of a brother and sister creating music.
Tickets go on sale January 24th
General Admission
Doors open at 7:30/ Music at 8pm
Pre-Sale tickets- 35.00/Day of show- 40.00
THIS EVENT IS SOLD OUT!   Thank you so much
May 11-David Bromberg Quintet-David Bromberg's incredible journey spans five-and-a-half decades, and includes – but is not limited to – adventures with Bob Dylan, George Harrison, Jerry Garcia, and music and life lessons from seminal blues guitarist Reverend Gary Davis, who claimed the young Bromberg as a son. A musician's musician, Bromberg's mastery of several stringed instruments (guitar, fiddle, Dobro, mandolin), and multiple styles is legendary, leading Dr. John to declare him an American icon. In producing John Hartford's hugely influential Aereo-Plain LP, Bromberg even co-invented a genre: Newgrass.
"Add in a period of self-imposed exile from his passion (1980-2002), during which he became a renowned violin expert, and Wilmington, Delaware's cultural ambassador; top that off with a triumphant return to music-making, and you have an amazing tale leading back to one place: the blues.
That love is evident in The Blues, the Whole Blues and Nothing But the Blues. The album is both blues primer and an opportunity to witness a master embracing this distinctly American music with passion and grace.
Bromberg's guitar work remains a marvel; amped electric lead – both slide and fretted – and delicately powerful acoustic fingerpicking propel these songs with the same force that made him the go-to guy. This is a man who can go full-on Chicago gutbucket with "You Don't Have to Go" (a Bromberg original), then slay with the jazz inflections of Ray Charles' "A Fool for You," rendered here intimately solo. Although Bromberg points out he's not the same guitarist he was before his two decades away from performing and recording. "I play differently," he says. "I can't play as fast, but playing slower gives me more time to think about what I'm doing."
Although he remains the proprietor of the beloved David Bromberg Fine Violins in Wilmington, Delaware, Bromberg makes time to tour with his quintet. As ever, he brings his characteristic devotional intensity to the music, invigorating his surprise third act with the same passion he felt as a teen, spinning those blues 78s, just before the road called.
General Admission- Doors open at 7:30/ Music at 8pm
Pre-sale- $37.00/ Day of show-$42.00
FAQs
What are my transportation/parking options for getting to and from the event?
Parking for the GAR Hall is located on the Southwest corner of Route 303 and Riverview directly South of the 303. Overflow parking can be found on the Southeast corner of 303 at Riverview Court or at Yellow Creek Trading Company at 1685 Main Street
How can I contact the organizer with any questions?
The office phone number is 330-657-2528
What's the refund policy?
full refund between 7-10 days prior to event
More information about these shows coming soon!
February 25th- Mardi Gras party with Mo Mojo
March 6th- Richie and Rosie
March 7th- Jen and Anthony
March 12th- Karan Casey
March 13th- Drowsy Young Lads
March 19th- Alasdair Fraser and Natalie Haas
March 20th- Che Apalache
March 21st- Hillbilly Idol
March 25th- The Steel Wheels
March 27th- Miss Tess and the Talkbacks
April 4th- Rachel Brown and the Beatnik Playboys
April 10th- Aaron Jonah Lewis
April 15th-J2B2
April 16th- Low Lilly
April 17th- Kim Richey
April 18th- Kristine Jackson
Please send all booking inquiries to  karen@crookedrivercreative.com
Thanks so much to the Ohio Arts Council for their continued support of the Arts Programming at the Peninsula Foundation, including
Voices in the Valley

Thanks so much to the Akron Community Foundation for their support of Arts Programing at the G.A.R. Hall


Words are not enough for all the gratitude we have for the countless people who have given to this program. You know who you are and Thank YOU so much! 

Jay Minkin for all his great press and support.  Check out his blog at minkinsmusic.wordpress.com