The Peninsula Foundation supports the Arts Community by presenting Voices in the Valley, a showcase of traditional roots music. So kick back, relax and join us for a night of music in the Historic G.A.R. Hall. Beer, Wine and adult beverages available.
Specialty flatbread pizzas, cheese plates, snacks and desserts available from Chef Ron Ramos, so come hungry!
Parking for the G.A.R. Hall is located directly across the street on the South West Corner of Route 303 and Riverview Road. There is handicap parking located directly in front of the G.A.R. Hall. Alternate Parking can be found 1 block away at Yellow Creek Trading Company after 5pm.  Or at Riverview Court (Ohio Hardwoods) on the Southeast Corner of the intersection of Route 303 and Riverview Road. Parking in Peninsula is always at a premium so if you are coming with friends, consider sharing a ride.  Thanks!
If you are looking for a way to sponsor the arts, please consider helping support the Voices in the Valley music program at the historic G.A.R. Hall. Operated by the Peninsula Foundation, this program features local and national touring musicians in the intimate setting of this beautiful, grand old hall. Your donation is tax deductible and very much appreciated. Thank you in advance for supporting the arts and arts programming in N.E. Ohio!!!
July 27th- David Mayfield Parade-David Mayfield, He's hard to describe and even harder to control, so why try! I gaurantee you will not be bored. Grammy nominated David Mayfield, N.E. Ohio's favorite showman, you just never know what to expect when David is on stage. Always focused on the performance, you will not be dissappointed with the group of top notch bluegrass musicians joining him on stage. Sometimes funny, sometimes outragous, always entertaining. Special guest playing with the Parade will be Steven Moore, two time National Banjo Champion…get ready for some amazing pickin'!
Doors open at 7:30/ Music at 8pm
General Admission
Pre-sale tickets- $19/ $23 at the door
Purchase Tickets on Eventbrite
July 28th- Cicada Rhythm– Born and raised in Georgia, this talented pair imitates and modernizes folk music to a rejuvenating degree. The sound of Andrea DeMarcus and Dave Kirslis exhibits skilled and articulate guitar picking honed in the dive bars of Atlanta over rolling Julliard-trained bass lines. Expect chilling harmonies, unbridled enthusiasm, some wholesome tunes and a sincere performance. Always excited to present new and upcoming talent and the Hall. Come give them a listen!
Genral Admission
Doors open at 7:30/Music at 8
Pre-Sale- $12/Day of show-$15
Purchase Tickets on Eventbrite
August 13th-  G.A.R. Grass Jam– Join us from 7-9 every 2nd Tuesday as we host a Bluegrass Jam Night! Paul Kovac and David Mayfield will be your hosts. All ages and skill levels are welcome and encouraged. We have 3-5 separate break out rooms so you can pick your jam. You are welcome to bring your own food to munch on, the bar will be open.Listeners welcome!  A $5 donation is appreciated.
September 8th- Rachel Baiman– Rachel Baiman's June 2017 label debut Shame was featured on NPR's "Songs We Love", called a "Rootsy Wake-up Call" by Folk Alley, and described by Vice's "Noisey" as "flipping off authority one song at a time." Now Baiman has announced Thanksgiving (out November 2 on Free Dirt Records), a self-produced four-song EP, featuring her live trio as well as special guests including Molly Tuttle and Josh Oliver
Thanksgiving is a collection of music to inspire an introspective holiday spirit. The songs center around themes of Indigenous Rights, home and homelessness, and love in hard times. "Thanksgiving has always been one of my favorite holidays," says Baiman. "But two years ago in November, the fight against the Dakota Access Pipeline was in full swing, and it just got me thinking about how the relationship between indigenous and white people in this country has hardly changed at all over the years. The irony of Thanksgiving being celebrated right as people were being arrested and sprayed with water guns for protecting their right to clean water really hit me"
Baiman's Thanksgiving is an intriguing follow up to Shame, allowing her a chance to stretch out stylistically, moving effortlessly between bluegrass, to folk, old-time and country. The bittersweet lyricism she's become known for conveys the push and pull of hardship and hope we often feel during the holiday season.
General Admission
Doors open at 6:30/Music at 7pm
Pre-sale $12/$15 day of show
Purchase tickets on Eventbrite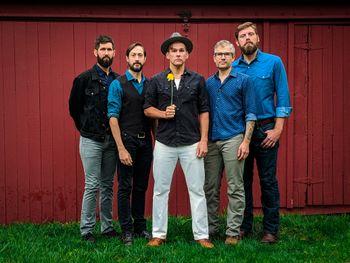 October 17th- The Steel Wheels- "Few groups have come as far in such a short period of time as The Steel Wheels…" – NPR's Mountain Stage
Virginia-based acoustic roots music collective The Steel Wheels have announced the July 12th release of their 7th full-length album, Over The Trees. Recorded in Maine with producer Sam Kassirer, Over The Trees draws attention to the impeccable harmonies of the four original members: Trent Wagler (guitar/banjo), Eric Brubaker (fiddle), Brian Dickel (bass), and Jay Lapp (guitars/mandolin). Kevin Garcia, who plays multiple percussion instruments, keyboard, and mallet-based instruments, formally joined the band after the 2017 release of Wild as We Came Here, which Kassirer also produced. In addition to familiar-to-fans harmonies, The Steel Wheels ventured a little farther out of their known comfort zone for Over The Trees. "This is a bit of an experimental record at times, with new sounds and influences," Wagler says. "We know where we come from. We are a string band from Virginia, but we are evolving with this album, and we are embracing the future."
Over The Trees opens with the percussion-heavy groove of "Rains Come," a rehashing of the classic tale of Noah and his ark in relation to today's contingency of climate change deniers. "If there are real dangers ahead in our planet's hope for survival, why isn't it all any of us are talking about?" asks Wagler, the song's primary writer. "It's overwhelming, that's why. I don't like admitting that I get stuck right there, but this song offers some of those questions." A little deeper into the record, the swampy chant of "Something New" ushers in a recurring theme on Over The Trees; mantra and meditation. "Get To Work" is another tune that falls under the theme. Wagler muses, "I know that 'Get To Work' is self-talk for when I'm feeling down, when I'm feeling overwhelmed, or when I'm feeling like, 'Ugh, what do we do this for?'" Certainly though, not all the songs on Over The Trees fall so neatly under that umbrella. "Time To Rest," co-written by Wagler and southern songstress Sarah Siskind, reflects on the weight of letting down friends or loved ones in a lilting feel that Wagler calls "an implied Levon Helm swing." The album closes with "This Year," a wistful a cappella ode to keeping an optimistic spirit, even down to showing gratitude for the cat who is waiting for you when you finally get home.
On the whole, Over The Trees is a collection of songs about surviving tragedy. "At times our human response is muted and resigned, at other times triumphant and steadfast," notes The Steel Wheels' fiddle master Eric Brubaker, who's outlook on the album changed significantly when he lost his 10 year old daughter to a sudden illness earlier this year. "Over the Trees is an ode to the community that rises up to support those in need, and is dedicated to the memory of Norah Brubaker."
We are so excited and honored to welcome back our boys, The Steel Wheels for the release of the 7th album, Over the Trees. For anyone who is a part of the Steel Wheels family, you know the magic they bring to the stage!
General Admission
Doors open at 7:30/Music at 8
Pre-Sale $28/Day of show $32
Purchase tickets on Eventbrite
FAQs
What are my transportation/parking options for getting to and from the event?
Parking for the GAR Hall is located on the Southwest corner of Route 303 and Riverview directly South of the 303. Overflow parking can be found on the Southeast corner of 303 at Riverview Court or at Yellow Creek Trading Company at 1685 Main Street
How can I contact the organizer with any questions?
The office phone number is 330-657-2528
What's the refund policy?
full refund between 7-10 days prior to event
More information about these shows coming soon!

August 25th- Hey Mavis
August 30th- The Tillers
September 6th- Frances Luke Accord
September 13th-Hillbilly Idol's Country Legends
September 14th- Rachel Brown and the Beatnik Playboys
September 20th- The Slocan Ramblers
September 21st- Music on the Porches TBA
October 4th- Becky Boyd and the Groove Train
October 11th- The Honey Dewdrops
October 12th- Blues, Bourbon and Barbeque
October 19th- Rayna Gellert and Kieran Kane
October 26th- Tim O'Brien
November 23rd- Paul Kovac's Big Grass Band
November 27th- Mo Mojo
December 6th, 7th and 8th- The Speedbumps
December 13th and 14th- Hillbilly Idol's Christmas Party
December 15th- Four Songwriters in the Valley
December 20th- David Mayfield's Parade Christmas show
December 21st- Anne DeChant
December 27th- Cats on Holiday's Holiday party
December 28th- Sisters in Song
December 31st- New Years Eve TBA
Please send all booking inquiries to  karen@crookedrivercreative.com
Thanks so much to the Ohio Arts Council for their continued support of the Arts Programming at the Peninsula Foundation, including
Voices in the Valley

Words are not enough for all the gratitude we have for the countless people who have given to this program. You know who you are and Thank YOU so much! 

Jay Minkin for all his great press and support.  Check out his blog at minkinsmusic.wordpress.com