The Peninsula Foundation supports the Arts Community by presenting Voices in the Valley, a showcase of traditional roots music. So kick back, relax and join us for a night of music in the Historic G.A.R. Hall. Beer, Wine and adult beverages available.
Parking for the G.A.R. Hall is located directly across the street on the South West Corner of Route 303 and Riverview Road. There is handicap parking located directly in front of the G.A.R. Hall. Alternate Parking can be found 1 block away at the old Yellow Creek Trading Company.  Or at Riverview Court (old Ohio Hardwoods) on the Southeast Corner of the intersection of Route 303 and Riverview Road. Parking in Peninsula is always at a premium so if you are coming with friends, consider sharing a ride.  Thanks!
If you are looking for a way to sponsor the arts, please consider helping support the Voices in the Valley music program at the historic G.A.R. Hall. Operated by the Peninsula Foundation, this program features local and national touring musicians in the intimate setting of this beautiful, grand old hall. Your donation is tax deductible and very much appreciated. Thank you in advance for supporting the arts and arts programming in N.E. Ohio!!
---
The Bluegrass Gospel Hour at the Bronson Church
Hosts Paul Kovac and David Mayfield play some of your favorite Bluegrass gospel tunes mixed with some fun banter!  This is not a church service, rather a meeting of the Bluegrass faithful looking to enjoy some fellowship with two of the area's favorite pickers!
This series is temporarily suspended.  We will give plenty of notice when we start this series again.
Truly sorry for any inconvenience, we too are excited to begin our Bluegrass Gospel Hour again.
---
March 31 - Brent Kirby - One of the Plain Dealer's "25 Acts to Watch"
Brent Kirby returns to the GAR Hall in beautiful Peninsula for a very special night of songs and stories. Recently awarded "Best Folk" 2022 by the Cleveland Music Awards, Brent has been working on a new collection of songs to perform at this show, and promises to be a a unique and exclusive night of new music from one of Northeast Ohio's best songwriters.
General Admission -$18
Doors open at 7:30pm/Music at 8pm
Purchase tickets on Eventbrite
---
April 7th - Bonnis and the King Trio -Spanning genres of Americana, Swing and Soul music, Andrew Bonnis, an Ohio native, and Christine King, a Colorado transplant, stimulate the senses with eclectic covers and dazzling originals.
After meeting in Colorado, Andrew Bonnis and Christine King have played music together for almost a decade. The multi award winning duo has played in Europe, North America, the Caribbean and Asia. Andrew has also been a music instructor for over 16 years. Together, they've played in several different projects and also add other musicians to their original duo.
Joining them this night is Anthony Papaleo, another highly acclaimed Cleveland musician who has toured extensively both nationally and internationally. His guitar work will literally blow- you- away. Another G.A.R. Hall favorite!
General Admission-$17
Doors open at 7:30pm/Music at 8pm
Purchase tickets on Eventbrite
---
The Henhouse Prowlers- Founded 18 years ago with the simple desire to play original and powerful bluegrass, this quartet now finds themselves at the intersection of performance, diplomacy and education.
On stage, the group gives audiences a sense of how much they love what they do. On record - including their 2021 release and ninth full length album, The Departure - the band explores their collective life experiences through songwriting and intricate instrumentation. While bluegrass is the undeniable foundation of the Prowlers music, the band bends and squeezes the traditional form into a sound all their own.
Working with the U.S. State Department and under their own nonprofit, Bluegrass Ambassadors, the Prowlers have toured over 25 countries across the globe. Using American music as a foundation, connecting folk music and cultures the world over, the Prowlers incorporate international elements into their already robust repertoire of unique traditional American music.
Whether performing live or presenting workshops, the Henhouse Prowlers find and spread the commonality we share as human beings through the universal language of music.The Stillhouse Junkies- Born in a distillery in Durango, CO, Stillhouse Junkies play a delirious, head-spinning mixture of original roots, blues, funk, swing, and bluegrass music. With all three band members sharing lead vocal and songwriting duties, the Junkies conjure a wide range of tonal landscapes that pay tribute to the iconic sounds of Gillian Welch, the Allman Brothers, Tim O'Brien, the Wood Brothers, John Hiatt, and countless others while breaking new musical ground with their genre-bending original material. Stillhouse Junkies are proud to be Grey Fox Bluegrass Festival showcase artists and 2020 & 2021 IBMA World of Bluegrass showcase artists.
Two great Bands, One great night of music at the Hall!
General Admission - $24.00
Doors open at 7:30pm/ Music at 8pm
---
G.A.R. Grass Jam
Tuesday, April 11th, 2023 at 7:00pm
Grass Jam is BACK! Paul Kovac and David Mayfield will be your hosts. All ages and skill levels are welcome and encouraged. We have 3-5 separate break out rooms so you can pick your jam. You are welcome to bring your own food to munch on, the bar will be open.
$5 donation at the door
---
April 13th -Maya di Vitry- Maya di Vitry's devotion to songwriting is her way of staying present, curious, and imaginative. Pennsylvania-raised and Tennessee-based, Maya first traveled and performed as a fiddling street musician, and then in bars, theaters, and on festival stages as a founding member of The Stray Birds. In 2019, she released her critically-acclaimed solo debut Adaptations, produced by Dan Knobler, and has since emerged as a prolific solo artist. NPR calls Maya's music "the perfect soundtrack for uncorking that emotion and defiantly loving life again."
Maya enjoys playing live around town in her home base of Nashville, TN, playing shows around the country with her band, and also traveling as a solo singer-songwriter, supporting artists like Aoife O'Donovan, John Craigie, Fruition. Maya's live band is a fluid ensemble, showcasing various collaborators. They will appear tonight as a trio, featuring band members Joel Timmons (guitars, vocals) and Ethan Jodziewicz (upright bass, vocals). Joel is known for his many years of music-making in the Charleston, SC-based band Sol Driven Train. In addition to being the co-producer, recording engineer, and mixing engineer on Maya's latest album Violet Light, Ethan is widely respected for his work with mandolinist Sierra Hull, and most recently as a touring member of Aoife O'Donovan's Age of Apathy Band.
General Admission - 20.00
Doors open at 7:30pm/Music 8pm
Purchase tickets on Eventbrite
---
The Honey Dewdrops are coming back to the G.A.R. Hall on April 14th
April 14th - The Honey Dewdrops- Virginia raised and Maryland based, Laura Wortman and Kagey Parrish of The Honey Dewdrops began touring in 2009 and have called the city of Baltimore home since 2014. With several albums and thirteen years of playing shows on the road, Laura and Kagey continue to expand their experimental folk sound while maintaining a commitment to deepening their understanding of the world through the lens of music. No Depression says of the new album, Light Behind Light, "The Honey Dewdrops have a way of filling their songs with humanity, using their beautiful playing and harmonies to emphasize what connects us all."
Two of my favorite people who write and perform beautiful music together...don't miss them!
General Admission - 23.00

Doors open at 7:30pm/Music at 8pm
---
April 15th & 16th-Donna The Buffalo is not just a band, rather one might say that Donna The Buffalo has become a lifestyle for its members and audiences. Since 1989, the roots rockers have played thousands of shows and countless festivals including Bonnaroo, Newport Folk Festival, Telluride, Austin City Limits Festival, Merle Fest, and Philadelphia Folk Festival.
They've opened for The Dead and have toured with Peter Rowan, Del McCoury, Los Lobos, Little Feat, Jim Lauderdale, Rusted Root, and Railroad Earth to name a few. They also toured with Ben & Jerry's co-founder Ben Cohen to help raise awareness about increased corporate spending in politics.
In 1991, the band started the Finger Lakes Grassroots Festival in Trumansburg, NY. The four day festival has become an annual destination for over 15,000 music lovers every year and was started as an AIDS benefit. It continues as a benefit for arts and education. To date, the event has raised hundreds of thousands of dollars and is now one of three Grassroots Festivals; the Bi-annual Shakori Hills fest in North Carolina and Virginia Key festival in Florida. In 2016 GrassRoots Culture Camp was introduced in Trumansburg, New York as four days of music, art, dance and movement workshops, including nightly dinners and dances. Obviously a band that has used its voice to bring awareness and change.
One of the most dynamic bands to grace the G.A.R. Hall stage. Dust off those dancing shoes and get on down to the Hall. You will love this Band and the experience they create!
TICKETS GO ON SALE AT 10AM ON MARCH 13TH
Doors open at 7:30/ Music at 8
Reserved table for 4 - 225.00-  Tables will be at the front of the room, closest to the stage
Standing room only - 45.00
There will be chairs set around the perimeter...but it will be hard to stay seated with Donna the Buffalo in the house!
PURCHASE TICKETS FOR APRIL 15TH - NIGHT ONE
---
David Howley, multi-instrumentalist and songwriter, from Co. Galway, Ireland where he founded We Banjo 3, returns solo, to he G.A.R. Hall!
April 19th -Born in Ireland, David Howley has been at the forefront of Irish guitar, voice and mandolin for over a decade. An award- winning vocalist, and holder of multiple Billboard #1's, he has performed with The Chieftains, Eileen Ivers, Carlos Nunez, Billy Strings, Bela Fleck, Altan, Ajeet and Mumford & Sons, amongst others. In 2011, David founded We Banjo 3 and since has gone on to play Irish folk music around the world. David is currently recording his first solo record produced by Ajeet. This music navigates the shadow with openness and vulnerability, all while drawing the listener to move.
Join us as we welcome the frontman for We Banjo 3, David Howley, as he embarks on a solo tour this time around. Come help us welcome him back to the Hall!
General Admission - $20.00

Doors open at 7:30pm/Music at 8pm
---
"A world-class duo of virtuosic fiddle, dance, banjo & song from the Ottawa Valley to the Hills of Appalachia"
April 20th - April Verch and Cody Walters- To listen to April Verch and Cody Walters is to be immersed in tradition. To watch them perform is to be transported. Be it regional Canadian roots, American old-time, 50's Country, Scandinavian folk music, or something original that sounds as though it's been around for a century—the one common thread is their love and reverence for the music and traditions that have been passed down to them.
Husband and wife duo April Verch & Cody Walters is a true partnership of kindred musical spirits, each a world-class musician in their own right. Combining their unique backgrounds from Verch's native Ottawa Valley and Walters' heartland roots in Kansas, their music showcases endless creativity and versatility—transitioning effortlessly from traditional Ottawa Valley step dancing and fiddle tunes, to old-time fiddle-banjo duets with tight-knit vocal harmonies, to innovative sandpaper foot percussion, all contrasted against Verch's sweet soprano voice.
General Admission - 24.00

Doors open at 7:30pm/Music at 8pm
---
Join us for an evening with Tim O'Brien and Jan Fabricius at the G.A.R. Hall!

April 21st- Tim O'Brien and Jan Fabricius-
Born in Wheeling, West Virginia in 1954, Grammy winning singer songwriter and multi-instrumentalist Tim O'Brien grew up singing in church and in school. After seeing Doc Watson on TV, became a lifelong devotee of old time and bluegrass music.
Tim started touring nationally in 1978 with Colorado bluegrass band Hot Rize. His songs "Walk the Way the Wind Blows" and "Untold Stories" were bluegrass hits for Hot Rize, and country hits for Kathy Mattea. Soon more artists like Nickel Creek, Garth Brooks, and The Dixie Chicks covered his songs.
Over the years, Tim has collaborated with his sister Mollie O'Brien, songwriter Darrell Scott, and noted old time musician Dirk Powell, as well as with Steve Earle, Mark Knopfler, Dan Auerbach and Sturgill Simpson. Living in Nashville since 1996, O'Brien's skills on guitar, mandolin, fiddle, and banjo make him an in demand session player. He tours throughout the US and abroad, most often with his partner Jan Fabricius on mandolin and vocals.
The International Bluegrass Music Association awarded him song of the year in 2006 and named him best male vocalist in 1993 and 2006. He was inducted into the West Virginia Music Hall of Fame in 2013. Notable O'Brien recordings include the bluegrass Dylan covers of "Red On Blonde", the Celtic-Appalachian fusion of "The Crossing", and the Grammy winning folk of "Fiddler's Green." His duet recording "Real Time" with Darrell Scott is a cult favorite, and he won a bluegrass Grammy as part of "The Earls Of Leicester." His 2017 release "Where the River Meets the Road" paid tribute to the music of his native West Virginia. O'Brien formed his own record label, Howdy Skies Records, in 1999, and launched the digital download label Short Order Sessions (SOS) with his partner Jan Fabricius in 2015.
His new release "He Walked On" features eight new originals and five covers from R.B. Morris, Bill Caswell, Dale Keys, Yip Harburg, and mentor J.D. Hutchison. Historical and socially conscious themes weave their way through songs about ordinary and not so ordinary people just trying to "keep it between the ditches".
General Admission - $42

Doors open at 7:30pm/Music at 8pm
Purchase tickets on Eventbrite
---
April 22nd - Rachel Brown and the Beatnik Playboys
Opening the evening will be the incredible Mark Freeman!
She plays piano, she plays guitar, she sings, she writes her own songs, she takes a classic and makes it her own...and did I mention this lady can sing!! Rachel Brown, she's one of the great talents in the N.E. Ohio music scene and the Beatnik Playboys are the perfect band for her. Come watch this lady shake the rafters. Always excited to present this fine ensemble at the Hall.
General Admission-$21.00
Doors at 7:30pm/Music at 8:00pm
Purchase tickets on Eventbrite
---
April 29th- Country Honk-Thor Platter, Anthony Papaleo, Tom Prebish and Fred Perez-Stable-A new project put together by some heavy hitting musicians in the NE Ohio music scene. Playing music inspired by the country rock movement of the 1970's, as well as traditional country, and some more modern favorites.
This band keeps the fun times rolling. Join us and bring your dancing boots!
General Admission- $18.00
Doors open at 7:30pm/Music at 8pm
Purchase tickets on Eventbrite
---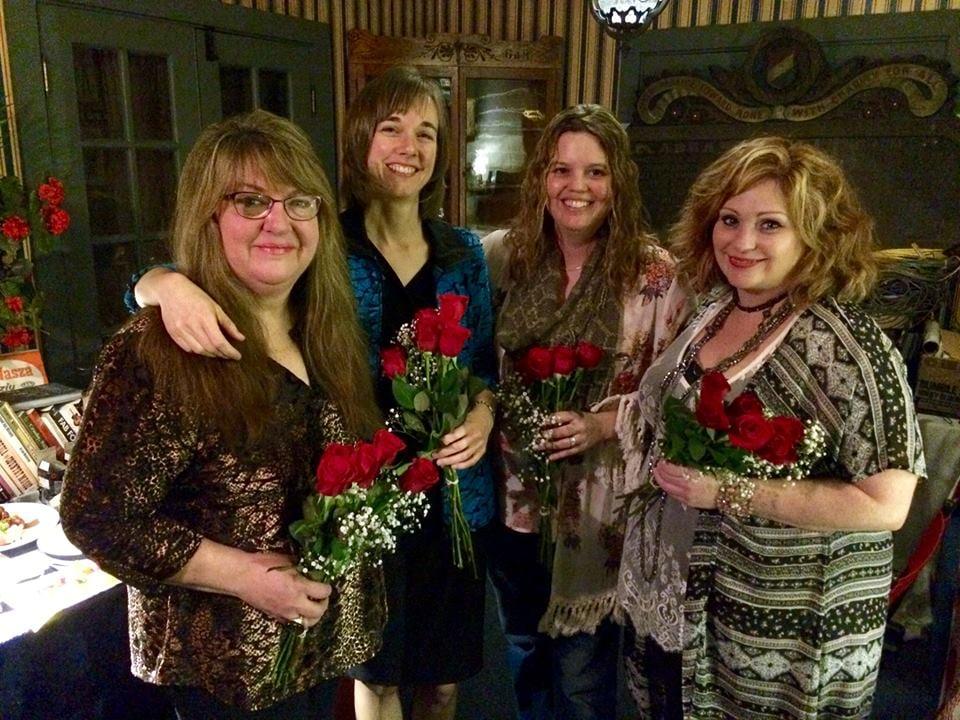 Sisters in Song return to the G.A.R. Hall
May 5th- Sisters in Song return to the G.A.R. Hall for a night of music among friends. Sisters in Song features some of N.E. Ohio's favorite female musicians, coming together to share a song, a laugh and sometimes a tear. They play some of your favorite tunes from other artists and some from their own pen. Join us for what is always a special night at the Hall.
Kristine Jackson, Becky Boyd and Rachel Brown with special guest Emma Shook!
General Admission-$22.00

Doors open at 7:30pm/Music at 8pm
---
These shows going on sale soon
Check back often for more updates!
May 11th - The New Revel
May 12th- Becky Boyd and the Groove Train
May 17th- The Chatham Rabbits
May 19th - Alla Boara
June 16th - The Slocan Ramblers
June 30th- Hey Mavis
---

FAQs
What are my transportation/parking options for getting to and from the event?
Parking for the GAR Hall is located on the Southwest corner of Route 303 and Riverview directly South of the 303. Overflow parking can be found on the Southeast corner of 303 at Riverview Court or at Peninsula Antiques at 1685 Main Street
Parking for the Bronson Church Green is in the G.A.R. Hall with a short walk East to the Green or at Peninsula Antiques at 1685 Main Street.  Please refrain from parking on Center Street.
How can I contact the organizer with any questions?
The office phone number is 330-657-2528
What's the refund policy?
full refund between 7-10 days prior to event
More information about these shows coming soon!
Please send all booking inquiries to karen@crookedrivercreative.com
Thanks so much to the Ohio Arts Council for their continued support of the Arts Programming at the Peninsula Foundation, including
Voices in the Valley

Thanks so much to the Akron Community Foundation for their support of Arts Programming at the
G.A.R. Hall