The Peninsula Foundation supports the Arts Community by presenting Voices in the Valley, a showcase of traditional roots music. So kick back, relax and join us for a night of music in the Historic G.A.R. Hall. Beer, Wine and adult beverages available.
Specialty flatbread pizzas, cheese plates, snacks and desserts available from Chef Ron Ramos, so come hungry!
Parking for the G.A.R. Hall is located directly across the street on the South West Corner of Route 303 and Riverview Road. There is handicap parking located directly in front of the G.A.R. Hall. Alternate Parking can be found 1 block away at Yellow Creek Trading Company after 5pm.  Or at Riverview Court (Ohio Hardwoods) on the Southeast Corner of the intersection of Route 303 and Riverview Road. Parking in Peninsula is always at a premium so if you are coming with friends, consider sharing a ride.  Thanks!
If you are looking for a way to sponsor the arts, please consider helping support the Voices in the Valley music program at the historic G.A.R. Hall. Operated by the Peninsula Foundation, this program features local and national touring musicians in the intimate setting of this beautiful, grand old hall. Your donation is tax deductible and very much appreciated. Thank you in advance for supporting the arts and arts programming in N.E. Ohio!!!
November 12th-  G.A.R. Grass Jam– Join us from 7-9 every 2nd Tuesday as we host a Bluegrass Jam Night! Paul Kovac and David Mayfield will be your hosts. All ages and skill levels are welcome and encouraged. We have 3-5 separate break out rooms so you can pick your jam. You are welcome to bring your own food to munch on, the bar will be open.Listeners welcome!  A $5 donation is appreciated.
Donna the Buffalo comes back to the Hall in support of their new record, "Dance in the Street". Come join the Herd!
November 14th-Donna the Buffalo –Donna the Buffalo offers everything you want in a roots band — songs that matter, a groove that makes you dance, an audience that spans generations, and a musical voice that evokes a sense of community. Donna The Buffalo is not just a band, rather one might say that Donna The Buffalo has become a lifestyle for its members and audiences.
Dance in the Street, their first new album in five years, captures the dynamic energy that has earned the band the love and respect of their fans, "the Herd", for thirty years.
"Successes? We have certainly tried to make a difference in the world, trying to inspire ourselves and others to treat their lives as a work of art, and our collective destiny as something that we are creating, not just something we are subject to. And at the same time we're having a blast, who wouldn't want to ride around on a bus playing music with their friends?" Puryear added.
Donna the Buffalo draws on a lot of musical influences, from country and rock 'n' roll, to bluegrass and old-time fiddle, as well as Cajun and Zydeco. In many ways, they were Americana before the term was ever coined. The common thread? Songs of the human spirit, and an incredibly tight relationship with their fans.
"The fans, they show up to be a part of it. We show up to be a part of it," Puryear says. "And we don't have an intimidating vibe where we're different than them. If a scene is really on, it doesn't matter whether you're watching, listening, dancing, or playing – it's on, everybody knows it's on and it feels great! I think that's the nature of the connection."
This show will have a limited number of table seating available to make room for all of you who can't wait to be dancing to Donna the Buffalo! The tables will be reserved and must be purchased in a group of 4 and can only be purchased as pre-sale tickets, all other tickets are STANDING ROOM ONLY. There will be a number of chairs around the perimeter which will not be reserved.
General Admission Doors open at 7:00pm, Music at 8pm
Pre-sale standing room only tickets- $28.00
Pre-sale table-tickets purchased in groups of 4- $35.00 per ticket
Day of show standing room only tickets- $35.00
***THIS SHOW IS SOLD OUT***
November 15th- Rachel Brown and The Beatnik Playboys– She plays piano, she plays guitar, she sings, she writes her own songs, she takes a classic and makes it her own…and did I mention this lady can sing!! Rachel Brown, she's one of the great talents in the N.E. Ohio music scene and the Beatnik Playboys are the perfect band for her. Come watch this lady shake the rafters. Can't say enough about Rachel and the boys. You won;t regret coming and spending the evening with them!
General Admission
Doors open at 7:30/ Music at 8pm
$15 pre-sale/$20 day of show
Purchase tickets on Eventbrite
The Foghorn Stringband is coming to the G.A.R. Hall and we couldn't be more exited..but wait! Miss Tess and Talkbacks are opening..get out!! November 17th- The Foghorn Stringband with support from Miss Tess and the Talkbacks- The Foghorn Stringband is the present day gold standard for real-deal hard-hitting genuine old-time American string band music, with eight albums, thousands of shows, over 15 years of touring under their belts, and an entirely new generation of roots musicians following their lead.
American roots music is a diverse and never-ending well of inspiration, and Foghorn Stringband continually and obsessively draws from old-time, bluegrass, classic country, and Cajun music traditions in an ongoing quest to present a broad span of American historical music with an unparalleled youthful energy, joy, and virtuosity.
The Foghorn Stringband is comprised four master performers and historians:
-Caleb Klauder (vocals, mandolin, fiddle) – From Orcas Island, Washington
-Reeb Willms (vocals, guitar) – From rural Farmer, Washington
-Nadine Landry (vocals, upright bass) – From the Gaspé Coast, Eastern Quebec
-Stephen 'Sammy' Lind (vocals, fiddle, banjo) – From Minneapolis, Minnesota
Each member of Foghorn Stringband exemplifies the best of the roots music traditions from their respective native cultures. Caleb Klauder's wistful, keening vocals and rapidfire mandolin picking are as influenced by Southern roots music as much as they are by his upbringing in the sea islands of coastal Washington State. Reeb Willms hails from the wind swept Eastern farmlands of Washington. Her musical family and rural upbringing are are on display with every note she sings and every heart she breaks. Nadine Landry's roots lie in the rural backroads of Acadian Québec, and her high lonesome vocals have delighted audiences the world over. Her earth-shaking bass playing is the rumbling backbone of the Foghorn sound. Minnesotan Stephen 'Sammy' Lind, simply put, is the old-time fiddler of his generation whose tone and voice are as old as the same hills that gave birth to this music. Together, these four have forged a sound like no other.
Supporting Act Miss Tess and the Talkbacks– Miss Tess has always been known for creating an eclectic array of vintage blues, country, and jazz sounds. Currently residing in Nashville, she finds no shortage of inspiration in the roots scene there. However varied Tess' music can be, front and center sits her voice that has been described as "alternately seductive and sexy, and a pure joy to listen to" (Pop Matters).
General Admission
Doors 6:30/Music at 7pm
Pre-sale-24.00/ Day of show-28.00
Purchase tickets on Eventbrite
Get Ready! Dustbowl Revival is rolling into the G.A.R. Hall on November 22nd!
November 22nd-Dustbowl Revival – Dustbowl Revival is an Americana Soul band with eight full-time members who mash the sounds of New Orleans funk, soul, pre-war blues, and roots music, into a genre-hopping, time-bending dance party that coaxes new fire out of familiar coal.
The band was founded in 2008 in the bohemian enclave of Venice Beach, California. In the following years, Dustbowl has become known for their free-flowing and joyous live shows, combining their funk rhythm and brass section with a fast-picking string band section – opening for bands as diverse as Lake Street Dive, Trombone Shorty and The Preservation Hall Jazz Band, touring China as a guest of the state department and headlining festivals like Delfest, Floydfest, Hardly Strictly Bluegrass, and recently Bergenfest (Norway) and Tonder Festival (Denmark).
Over the past few years, Dustbowl Revival has been making a name for itself with a vibrant mix of vintage Americana sounds. Critics have proclaimed that this eclectic eight-piece "would have sounded utterly at home within the hallowed confines of Preservation Hall in New Orleans' French Quarter" (Los Angeles Times) and their "upbeat, old-school, All-American sonic safaris exemplify everything shows should be: hot, spontaneous, engaging and, best of all, a pleasure to hear" (L.A. Weekly). Rob Sheffield, in Rolling Stone, hailed them as a great band "whose Americana swing was so fun I went back to see them again the next day.
Excited to welcome Dustbowl Revival to the G.A.R. Hall…they are sure to make you smile!
General Admission
Doors open at 7:30/ Music at 8pm
Pre-Sale- $24.00/ Day of show – $29.00
Purchase tickets on Eventbrite
November 23rd- Paul Kovac's Big Grass Jam Band– Paul Kovac has gathered some of his favorite "pickers to form a Grass Jam Band. Catch them as they roll into the Hall to play original Ohio Bluegrass and some of your favorite tunes from the legends of Bluegrass, Nothing but fun here folks! So happy to have this show coming back to the Hall.
General Admission
Doors open at 7:30/ Music at 8pm
Pre-sale tickets $15.00 Tickets at the door if available- $20.00
Purchase tickets on Eventbrite
November 25th- Hawktail-Hawktail is the instrumental acoustic quartet of fiddler Brittany Haas, bassist Paul Kowert, guitarist Jordan Tice, and mandolinist Dominick Leslie. Though at first glance it looks like an acoustic superpicker side-project, their all-original music is cohesive and unique, distinguishing them as an ensemble with a sound built from the ground up. Flush with orchestral sweeps and sparse vigils, with strains of the American South and the North Atlantic, this cosmopolitan sound is not what you'd expect from a string band.
Each member of Hawktail brings a strong individuality to the project. Haas, whose 2004 self-titled release instantly became the touchstone for a generation of old-time fiddlers, has since lent her sound to Crooked Still, Live From Here, Steve Martin, and David Rawlings, where she played alongside Kowert, well known as the Grammy-winning Punch Brothers' virtuosic bass player. Tice is a rare guitar player whose music showcases his unique identity and a particular knack for song and tune-writing, and Leslie is a versatile mandolinist whose rhythmic sensibility has made him ubiquitous on the acoustic music scene for over a decade. However, despite each of their ability to contribute to many musical situations, something special happens when they unite as Hawktail. Together, they have fostered a reputation as a rare ensemble of composers and instrumentalists able to take the listener on a journey, without the use of words.
Please don't miss this show. This band is an original mix of talent that together form an amazing ensemble that is not afraid to cross genres, mix international styles, and leave you wanting for one more tune. PLEASE don't miss this show!
General Admission
Doors open at 7pm/Music at 7:30pm
pre-sale tickets $22/day of show $25
Purchase tickets on Eventbrite
November 27- Mo' Mojo-A hard driving, high energy, "Pardi-Gras" Band. You know this female fronted group that features three-part harmonies, accordion, fiddle, guitar, rubboard, sax, trumpet, harp, bass, percussion, and drums. They are bringing the party for your pre-Thanksgiving festivities. So bring your friends, bring your family and put on your dancing shoes cause Mo' Mojo is in the house
General Admission
Doors open at 7:30/Music at 8pm
Pre-Sale ticket- $16.00 Day of show $20.00
Purchase tickets on Eventbrite
November 30th- The Rusty Goat, bringing back your favorite rock and roll and blues tunes from the 70's. Three of these boys grew up in Peninsula with high hopes of being rock stars, they were good then, they are better now! John, Jeff, Tom, Tim and Mike are the Rusty Goat! Not our usual offering at the Hall, but every now and then we can still rock it out!
General Admission                                                                                                  Doors open at 7:30/Music at 8pm                                                                           Pre-sale $12/Day of Show $15
Purchase tickets on Eventbrite
December 5th- Barnes, Gordy and Walsh– In the world of bluegrass and folk, where the collaborative possibilities are endless, what draws some musicians together in formal collaborations is hard to pinpoint. For Joe K. Walsh, Grant Gordy, and Danny Barnes, a newly formed bi-coastal trio, curiosity is the rule, and tunes are just a starting point.
The trio is anchored by banjo player and singer/songwriter Danny Barnes. Barnes is best known as the frontman of the Bad Livers, for his collaborations with Dave Matthews and Bill Frisell, and as the 2015 winner of the Steve Martin Prize for Excellence in Banjo and Bluegrass. He is an innovative banjo player and songwriter originally from Texas whose solo album "Pizza Boz", garnered him a sort of cult following, and led Sam Bush to describe him as "The Great American Un-Sung Hero". The elder of the group, Barnes brings an element of fierce individuality to the trio, with wisdom-infused vocals and straightforward, no nonsense banjo picking.
Gordy and Walsh come from a more jazz and swing influenced background, having first bonded over their mutual obsession with learning David Grisman solos. For Walsh, hearing some of the earl Dawg records was his first impetus to learn the mandolin. However, he is now equally renowned for his bluegrass and old-time sensibilities. Growing up in Illinois and later Minnesota, Walsh first established himself on the East Coast as the co-founder of progressive bluegrass band Joy Kills Sorrow, and as a long time member of The Gibson Brothers. He went on to become a faculty member at The Berklee College of Music.
Gordy, who is originally from Colorado and now lives in Brooklyn, went from being a fan of David Grisman, to playing in his band. Having spent six years in the David Grisman Quintet, Gordy released a self titled solo album to in 2010 to critical acclaim, and has been featured on NPR's Morning Edition, Tiny Desk Concerts, and All Things Considered as well as The Fretboard Journal, Acoustic Guitar Magazine, and Flatpicking Guitar Magazine. Darol Anger, with whom Gordy has collaborated frequently, describes his playing as containing "Kaleidoscopic excellence, startling emotion, and personal revelation".
Treat yourself to something new and exciting. These three exceptional musicians will not disappoint!
General Admission
Doors open at 6:30/ Music at 7pm
Pre-Sale tickets $17/ Day of show $20
Purchase tickets on Eventbrite
The Speedbumps weekend at the G.A.R. Hall
December 6th, 7th and 8th- The Speedbumps are an award-winning American band with a warm, authentic sound, built on a passion for hollow-bodied instruments, indie-folk and indie-rock influences, and singer-songwriter Erik Urycki's breathy, commanding vocals and canny phrasing.
The band's roots lie deep in the Rustbelt, where quiet strength and limited embellishment define the culture. The working class towns around Akron, the former rubber capital, from which artists like The Black Keys, The Pretenders, and Devo have emerged, have provided the band with an aesthetic that seeks to tease out beauty from the gritty details of everyday life.
Daryl Rowland, writing for the Huffington Post, said that singer Erik Urycki's lyrics "often tackle complex human emotions with elegant economy."
While the band cites influences from Paul Simon to Nick Drake to Radiohead, their material and vibe have more in common with festival favorites like The Decemberists, Wilco, or My Morning Jacket with their consistently smart, spare and rootsy approach.
Erik Urycki: vocals, guitar
Sam Kristoff: cello
Danny Jenkins: drums/percussion
Kevin Martinez: bass
Bethany Svoboda: keys, vocals
General Admission
Doors open at 7pm/Music at 8pm
Pre-Sale ticket $20/Day of show $25
Friday December 6th – The Speedbumps with opening support from Bethany Svoboda and Dan Socha- This show is SOLD OUT!! Thank You!
Saturday December 7th- The Speedbumps with opening support from Gretchen Pleuss- This Show is SOLD OUT!  Thank you!
Sunday December 8th- The Speedbumps with opening support from Roger Hoover- Purchase tickets on Eventbrite
December 6th-Opening support for the night- Bethany Svoboda and Dan Socha- Dan Socha & Bethany Joy are singer/songwriters based out of Cleveland, Ohio. The pair started playing together in 2016 and have since released two solo records and are currently recording an EP with their band, Thieves of Joy. The duo is best characterized by their strong vocal harmonies, vibrant energy, and interesting song arrangements. Dan and Bethany both play guitar and write songs individually and collaboratively. They take inspiration from artists such as Nick Drake, Adrienne Lenker, Sam Cooke, and Jose Gonzalez. Since 2016, Bethany has also been a member of the Speedbumps, while Dan has been a long-time Speedbumps' roadie and super fan.
December 7th- Opening support Gretchen Pleuss-Gretchen Pleuss is an Ohio-bred singer-songwriter whose "vocal delivery and skillful finger picking call to mind the folk singers who graced the stage of the Gaslight Café during the 60's Greenwich Village folk renaissance. Fans of Joni Mitchell, Nick Drake, and other folk luminaries will appreciate Gretchen's gorgeous arrangements and thought-provoking songwriting." – Dan Jarvis, Midwest Action. To date, Gretchen has played at an array of prominent venues throughout the United States, Canada, the UK, and Ireland. Her discography consists of three L.P.'s, including the much anticipated Daughter of the Broader Skies, which was produced by Jim Wirt and released on Sun Pedal Recordings in 2019.
Roger Hoover–A fearless songwriter, Hoover who distills the experiences of an American wanderer into songs that illuminate the ethereal worlds and promise within each of us. The darkness underlying Hoover's compositions manifest itself as songs exploring mysterious religiosity of a swirling Depression-era dust storm, as the harsh North Dakota wilderness and of finding work there, the yearning for quiet places far from humanity, Saint John's contemplative life and brotherhood, and one man's gratitude for love and the potential inside all of us to change our landscape, songs that playwright Tyler Whidden says, "howl with the voices of the disenfranchised and heartbroken whose ghosts hang like shadows." Even in the most desperate times, there is a blush of hope, a glimmer of promise.
December 13th and 14th- Hillbilly IDOL's Honk Tonk Christmas– NE Ohio's premier Roots Country Honky-Tonk Swing band, will be performing their annual holiday classic at the G.A.R. Hall. This is a show is so fun we had to offer it two nights!  We are so happy to celebrate the season with you while enjoying some of your favorite holiday tunes performed by one of NE Ohio's best. You will be dancing and smiling I promise!!
General Admission
Doors open at 7:30/Music at 8pm
$16 pre-sale/$20 day of show
Purchase tickets on Eventbrite for night one- December 13th
Purchase tickets on Eventbrite for night two- December 14th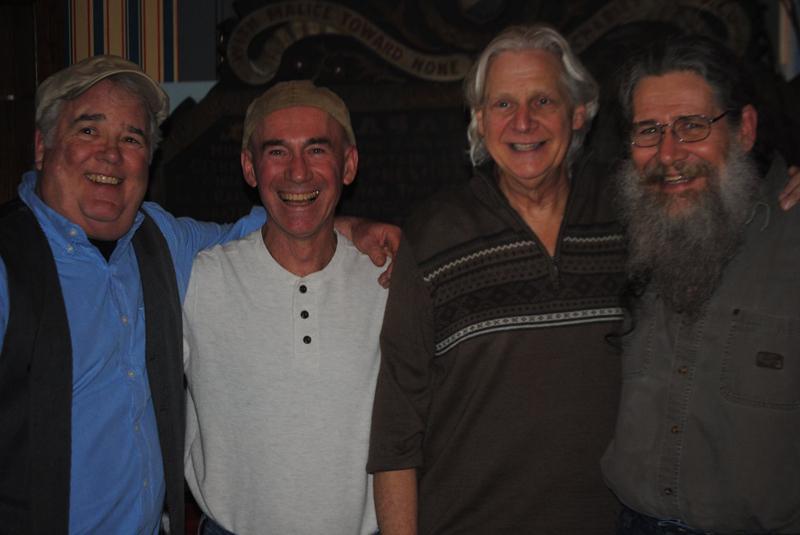 December 15th- Four Songwriters in the Valley– I look forward to this show every year and it never disappoints. Join us for a special evening of song between four friends, Charlie Wiener, Jon Mosey, Jim Ballard and Alex Bevan. These 4 songwriters have a treasure of tunes to share, what makes this special is they perform each others songs in a round robin setting. It is always a special night filled with great music, great stories
General Admission
Doors open at 6:30/ Music at 7
$15 pre-sale/$20 day of show
December 21st- Anne E. DeChant-"She is what the future of Americana music needs to be in order to endure – a passionate prophetess who has come in from the wild, rough edges intact, and ready to rock." – No Depression
Anne E. DeChant is a Nashville recording artist originally from Avon Lake, Ohio. She was named Cleveland's Singer-Songwriter of the Year five times. She's performed with Melissa Etheridge, Sheryl Crow, Stevie Nicks, Don Henry, Travis Meadows and a host of others. Anne E. was the selected local artist at Lilith Fair (Cleveland) review and has delivered stand out shows in storied venues ranging from The Bluebird Café, The Bitter End, Evening Muse, The Alabama Country Music Hall of Fame to the Clinton White House.
Anne E. DeChant is a Nashville recording artist originally from Avon Lake, Ohio. She was named Cleveland's Singer-Songwriter of the Year five times. She's performed with Melissa Etheridge, Sheryl Crow, Stevie Nicks, Don Henry, Travis Meadows and a host of others. Anne E. was the selected local artist at Lilith Fair (Cleveland) review and has delivered stand out shows in storied venues ranging from The Bluebird Café, The Bitter End, Evening Muse, The Alabama Country Music Hall of Fame to the Clinton White House.
DeChant's name derives from the French "of song", a birthright clearly expressed through an unmistakable voice and songwriter's perception. She began her career as the dynamic lead singer of Cleveland fan favorite, Odd Girl Out, before becoming the powerhouse she is today with nine studio album releases to her credit.
Join us as Anne E. DeChant comes home for the holidays to the G.A.R. Hall. You know she'll be rockin' !
General Admission ~ Doors open at 7:30/Music at 8pm
Pre-sale tickets 16.00/ Day of show 20.00
Purchase tickets on Eventbrite
January 23rd-Chapel Hill's indie Americana quartet Mipso – Jacob Sharp (mandolin, vocals), Wood Robinson (bass, vocals), Joseph Terrell (guitar, vocals), and Libby Rodenbough (fiddle, vocals) – release their fifth album, Edges Run, on April 6th, 2018 via a newly inked record deal with AntiFragile Music. Influenced by the contradiction of its progressive home and the surrounding rural southern landscapes, Mipso has been hailed as "hewing surprisingly close to gospel and folk while still sounding modern and secular" (Acoustic Guitar) and was recently recognized by Rolling Stone as an " Artist You Need to Know." The band brings a distinctly unique sound – full of wistful beauty, hopeful undercurrents, and panoramic soundscapes. Venturing ever-further from its string-band pedigree to discover a broader Americana where classic folk-rock and modern alt-country sounds mingle easily with Appalachian tradition, Mipso's music is lush and forward moving, with lyrics that sear and salve in turn.
Support for Mipso- Since meeting as students at The New England Conservatory in 2004,Bridget Kearney and Benjamin Lazar Davishave collaborated in many settings, finding time to make music together in between each of their busy schedules as individuals. Kearney is the bassist and songwriter for pop-soul band Lake Street Dive and released her debut solo album Won't Let You Down in 2017 (Davis played bass on Kearney's album release tour). Davis released his debut solo album Nothing Matters in 2018 (Kearney is a frequent guest performer and co-wrote one of the tracks), he also released a collaborative record with Joan As Police Woman is 2016, is a member of indie folk-band Cuddle Magic, and writes, records, and performs with many artists including Okkervil River, Kimbra, and Anaïs Mitchell. Kearney and Davis will be releasing a new album together in 2020.
General Admission
Doors open at 7:30/Music at 8pm
Pre-Sale tickets $20/ Day of show $25
Purchase tickets on Eventbrite
FAQs
What are my transportation/parking options for getting to and from the event?
Parking for the GAR Hall is located on the Southwest corner of Route 303 and Riverview directly South of the 303. Overflow parking can be found on the Southeast corner of 303 at Riverview Court or at Yellow Creek Trading Company at 1685 Main Street
How can I contact the organizer with any questions?
The office phone number is 330-657-2528
What's the refund policy?
full refund between 7-10 days prior to event
More information about these shows coming soon!
December 15th- Four Songwriters in the Valley
December 20th- David Mayfield's Parade Christmas show
December 21st- Anne DeChant
December 27th- Cats on Holiday's Holiday party
December 28th- Sisters in Song
December 31st- New Years Eve TBA
January 11th- Hey Mavis
January 17th- April Verch
February 21st- Bruce Molsky's Mountain Drifter
Please send all booking inquiries to  karen@crookedrivercreative.com
Thanks so much to the Ohio Arts Council for their continued support of the Arts Programming at the Peninsula Foundation, including
Voices in the Valley

Thanks so much to the Akron Community Foundation for their support of Arts Programing at the G.A.R. Hall


Words are not enough for all the gratitude we have for the countless people who have given to this program. You know who you are and Thank YOU so much! 

Jay Minkin for all his great press and support.  Check out his blog at minkinsmusic.wordpress.com