The Peninsula Foundation supports the Arts Community by presenting Voices in the Valley, a showcase of traditional roots music. So kick back, relax and join us for a night of music in the Historic G.A.R. Hall. Beer, Wine and adult beverages available.
Parking for the G.A.R. Hall is located directly across the street on the South West Corner of Route 303 and Riverview Road. There is handicap parking located directly in front of the G.A.R. Hall. Alternate Parking can be found 1 block away at the old Yellow Creek Trading Company.  Or at Riverview Court (old Ohio Hardwoods) on the Southeast Corner of the intersection of Route 303 and Riverview Road. Parking in Peninsula is always at a premium so if you are coming with friends, consider sharing a ride.  Thanks!
If you are looking for a way to sponsor the arts, please consider helping support the Voices in the Valley music program at the historic G.A.R. Hall. Operated by the Peninsula Foundation, this program features local and national touring musicians in the intimate setting of this beautiful, grand old hall. Your donation is tax deductible and very much appreciated. Thank you in advance for supporting the arts and arts programming in N.E. Ohio!!
---
The Bluegrass Gospel Hour at the Bronson Church
Hosts Paul Kovac and David Mayfield play some of your favorite Bluegrass gospel tunes mixed with some fun banter!  This is not a church service, rather a meeting of the Bluegrass faithful looking to enjoy some fellowship with two of the area's favorite pickers!
This series is temporarily suspended.  We will give plenty of notice when we start this series again. Truly sorry for any inconvenience, we too are excited to begin our Bluegrass Gospel Hour again.
---
---
All Gram, All night! Come celebrate the music of Gram Parsons with Cleveland's own, The New Soft Shoe.
September 29th - Fronted by Cleveland's-own, Brent Kirby, New Soft Shoe is a Cleveland-based band that covers the catalog of Cosmic American Music's Gram Parsons. Since the founding of the band 12 years ago, they have performed a residency at Forest City Brewery, played the Rock Hall and other venues, Gram Parsons Pull in Waycross, GA, Gram's childhood home, and put their own twist on many of the classic Gram, Flying Burrito Brothers, Byrds, and International Submarine Band songs. The band digs deep into the catalog with the only rule that Gram had to have played the song at least once for it to be performed by the band.
General Admission- $18
Doors open at 7:30/Music at 8
---
---
October 1st- Benefit for Alex -Very honored to present this event. For those of you who remember our chef Ron, you will remember that he always had his children there helping him provide service to eveyone coming to enjoy music at the G.A.R. Hall. Unfortunately his son Alex had a terrible accident that caused a serious brain injury. The musicians of Northeast Ohio, (some of the best people I know), have joined together to do this fundraiser at the G.A.R. Hall to provide support for Alex and of course for Ron and his family. Come and join us...it will be a special night hosted by Brent Kirby in a 10x3 format. Special night for a special family...see you at the Hall!
---
October 6th- The Tillers have been thumping their own distinctive sound of string band style folk music for a decade, riding it all over the country and across the sea. Four studio albums and one live record have won them praise as modern folk storytellers of the national soundscape. They have shared the stage with a broad swath of national acts, from folk legends like Doc Watson, Ramblin' Jack Elliott, Guy Clark, Country Joe McDonald, Jerry Douglas, Iris Dement, Pokey LaFarge, and The Carolina Chocolate Drops to rock daredevils like the Legendary Shack Shakers.
The band came into being while busking for nickels and dimes in the gaslight district of Cincinnati. Now far removed from those humble beginnings, the band has won over Cincinnati's bar and festival scene and launched international tours with tireless momentum. They resurrect songs of America's past, craft originals all their own while touching on themes both historical and timeless. They are Cincinnati's traveling minstrels.General Admission- 24.00
Doors open at 7:30/Music at 8pm
---
"Fraser, one of the most respected of all exponents of the Scots fiddle, would look long and hard to find a more appropriate cellist partner.
October 7th- Alasdair Fraser and Natalie Haas
- The musical partnership between consummate performer Alasdair Fraser, "the Michael Jordan of Scottish fiddling", and brilliant Californian cellist Natalie Haas spans the full spectrum between intimate chamber music and ecstatic dance energy. Over the last 20 years of creating a buzz at festivals and concert halls across the world, they have truly set the standard for fiddle and cello in traditional music.
Fraser has a concert and recording career spanning over 30 years, with a long list of awards, accolades, radio and television credits, and feature performances on top movie soundtracks (Last of the Mohicans, Titanic, etc.). In 2011, he was inducted into the Scottish Traditional Music Hall of Fame. Haas, a graduate of the Juilliard School of Music, is one of the most sought after cellists in traditional music today. She has performed and recorded with a who's who of the fiddle world.This seemingly unlikely pairing of fiddle and cello is the fulfillment of a long-standing musical dream for Fraser. His search eventually led him to find a cellist who could help return the cello to its historical role at the rhythmic heart of Scottish dance music, where it stood for hundreds of years before being relegated to the orchestra.
General Admission- 30.00
Doors open at 7:30/ Music at 8
Purchase tickets on Eventbrite
---
October 8th - Corn Potato String Band - The Corn Potato String Band earns high praise in traditional American music, keeping old time fiddle and banjo music from a one-way trip to the dustbins of history. Theirs is a story of struggle, hard knocks and triumph. Essentially unable to cope with modern life, the members of this band are outcasts of society who survive by playing the lost music of the flatlands where they were raised.
The Corn Potatoes have delighted audiences with their driving fiddle tunes and harmonious singing across the US, Canada, Europe, Mexico, and India. They are all multi-instrumentalists dedicated to continuing the music and dance traditions of the Central and Southern US. In addition to being champion fiddlers they play banjo, guitar, bass and mandolin and deftly handle many different antiquated styles including ballads, "ho-downs," country "rags" and southern gospel, specializing in twin fiddling and double banjo tunes.
General Admission- 29.00
Doors open at 7:30/Music at 8
---
G.A.R. Grass Jam
Tuesday, October 10th at 7:00pm
Grass Jam is BACK! Paul Kovac and David Mayfield will be your hosts. All ages and skill levels are welcome and encouraged. We have 3-5 separate break out rooms so you can pick your jam. You are welcome to bring your own food to munch on, the bar will be open.
$5 donation at the door
---
October 14th- Henhouse Prowlers - Founded over 16 years ago with the simple desire to play original and powerful bluegrass, this quartet now finds themselves at the intersection of performance, diplomacy and education.
The Prowlers have now been to more than 25 countries across the globe, working with the U.S. State Department and under their own nonprofit, Bluegrass Ambassadors - incorporating music from Africa, Asia, the Middle East and more into their already robust repertoire of unique traditional American music.
On stage, in workshops and wherever they are, the Henhouse Prowlers find and spread the commonality we share as human beings through the universal language of music.
General Admission: 25.00
Doors open at 7:30/Music at 8pm
Purchase tickets on Eventbrite
---
Sisters in Song, coming back to the G.A.R. Hall, where it all started!
October 15th- Sisters in Song return to the G.A.R. Hall for a night of music among friends. Sisters in Song features some of N.E. Ohio's favorite female musicians, coming together to share a song, a laugh and sometimes a tear. They play some of your favorite tunes from other artists and some from their own pen. Join us for what is always a special night at the Hall.
Kristine Jackson, Becky Boyd and Rachel BrownGeneral Admission-$22.00
Doors open at 6:30/Music at 7
---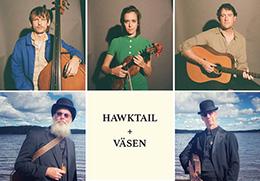 October 21st- Hawktail + Väsen is the culmination of decades of influence and musical relation. Brittany, Jordan and Paul met while in college on the east coast, jamming on Väsen tunes and seeing their concerts whenever possible. These experiences proved highly formative to their musical identities and Väsen continues to inspire their direction. "Their music was highly relatable, yet also felt strange and new," says bassist Paul Kowert. "Meeting someone else who also knew their tunes was exciting. Playing them together: even better."
There's a strong tie between their respective fiddle traditions and each band's approach to tune-writing that makes this collaboration a natural fit. The opportunity to perform together is something that both bands have been looking forward to for years.
"The members of Hawktail are brilliant musicians I met when they were teenagers coming to Väsen-gigs on our US tours." says Väsen's Nyckelharpa player, Olov Johansson. "It's been amazing to follow their path and now we get to create new Hawktail-Väsen music together!"
General Admission- 38.00
Doors open at 7:30/Music at 8
Purchase tickets on Eventbrite
____________________________________________________
For more than eleven years, Northeast Ohio Americana Band, Hey Mavis has been weaving a musical tapestry and igniting a following of dedicated fans. With heartfelt vocals, honest songwriting, blazing instrumental solos and an undeniable onstage musical chemistry, this quartet is the definition of great Americana music. Always a favorite at the G.A.R. Hall, and rightfully so, join us as we welcome Hey Mavis back to the G.A.R. Hall stage.
Doors open at 7:30pm/ Music at 8
General Admission- 26.00
PURCHASE TICKETS ON EVENTBRITE
____________________________________________________
November 10th - Kieran Kane and Rayna Gellert
- Kieran Kane's seminal work in The O'Kanes and Kane Welch Kaplin, as well as co-founding the independent label Dead Reckoning Records, laid the foundation for the contemporary world of Americana music. A successful solo artist, collaborator, and songwriter (with songs recorded by Alan Jackson, John Prine, Emmylou Harris, and many more), Kieran is a musician's musician: his playing is always understated, always groove-oriented, and always serving the song.
If Rayna Gellert seems a preternaturally gifted songwriter, it's because she's seen farther into the old songs than most. Growing up in a musical family, she turned to Appalachian old-time music at a young age, becoming a prodigious fiddler and leading a new revival of American stringband music through her work with the acclaimed roots band Uncle Earl. An in-demand collaborator, she has toured and recorded with artists such as Scott Miller, Abigail Washburn, Toubab Krewe, and Robyn Hitchcock.
Kieran and Rayna first met, fittingly, at San Francisco's celebrated Hardly Strictly Bluegrass Festival, which led to their cowriting songs for Kieran's solo album Unguarded Moments (Dead Reckoning). They joined forces again for Rayna's 2017 release, Workin's Too Hard (StorySound Records), which they also co-produced. Their first duo album, The Ledges, was released in February of 2018 on Dead Reckoning Records, followed up quickly by 2019's When the Sun Goes Down.
Fans of either artist will recognize the musical kindred-spiritedness in their restrained and roots-oriented approach to both songs and arrangements.
General Admission- $23.00
Doors open at 7:30/ Music at 8pm
Purchase tickets on Eventbrite
---
November 17th- Dar Williams' lyrics contain bouquets of optimism, delivered on melodies alternating between beguiling lightness and understated gravity. Williams strongly believes that all of us possess our own power and ability to achieve, and she rejects the exceptionalism that encourages us to "admire that yonder star," while making us feel small and insignificant; unworthy of shining on our own but hoping to catch enough distant light to inspire some tiny accomplishment. Williams has always been very interested in how to control our future and this album has to do with the fact that at some point, you just can't.
Like everyone else, Williams spent 2020 in that state of non-control. She and longtime producer Stewart Lerman tracked most of the album, her 12th studio recording, in November of 2019. In late February of 2020, she cut the title tune in Woodstock with bassist Gail Ann Dorsey and Larry Campbell, who produced the track and played guitars, pedal steel and twangy baritone guitar. When told they had to postpone a mid-March mixing date, Campbell said he wasn't feeling well anyway. Turns out he'd contracted a serious case of COVID-19. That was a clear sign that at some point, you have to meet life where it meets you …the common thread throughout that these songs, the willingness to meet life as it arrives.
Dar Williams was always in the right place at the right time for the success she's had over a 25+-year career. She rose out of the vibrant mid-90's Boston scene, inspired by the eclectic influences of alt-rockers, Berklee jazz musicians, slam poets, and folk artists, like Patty Griffith, Melissa Ferrick, the Throwing Muses, Vance Gilbert, and Jonatha Brooke. After a year of touring non-stop with her first album, The Honesty Room, in 1994, she was invited by Joan Baez to tour in Europe and The United States.
"Good and bad things happen, and it's not necessarily a reward or indictment. I've just got to meet it." Williams observes. "Like, I'm bringing my whole life to this moment; it will surprise me, challenge me, show me where I was wrong, even make a fool out of me, but my job is to show up and not take adversity personally. Real happiness doesn't have to feel like Snoopy dancing with Woodstock; it can just be knowing you have the resilience to meet whatever comes to you. I will call that a good life."
General Admission - $45.00
Doors open at 7:30/Music at 8pm
Purchase tickets on Eventbrite
---
Mark your calendars for these upcoming events at the G.A.R. Hall

Tickets will go on sale soon!
NOVEMBER 16TH - MILE TWELVE
November 18th - Reclamation
November 22nd - Mo Mojo
DECEMBER 1ST- GRIFFIN HOUSE

December 2nd- Up til 4
DECEMBER 9TH - TALL PAUL & WESTERN DRAWL
DECEMBER 15TH AND 16TH- DAVID MAYFIELD PARADE
---
FAQs
What are my transportation/parking options for getting to and from the event?
Parking for the GAR Hall is located on the Southwest corner of Route 303 and Riverview directly South of the 303. Overflow parking can be found on the Southeast corner of 303 at Riverview Court or at Peninsula Antiques at 1685 Main Street
Parking for the Bronson Church Green is in the G.A.R. Hall with a short walk East to the Green or at Peninsula Antiques at 1685 Main Street.  Please refrain from parking on Center Street.
How can I contact the organizer with any questions?
The office phone number is 330-657-2528
What's the refund policy?
full refund between 7-10 days prior to event
More information about these shows coming soon!
Please send all booking inquiries to karen@crookedrivercreative.com
Thanks so much to the Ohio Arts Council for their continued support of the Arts Programming at the Peninsula Foundation, including
Voices in the Valley

Thanks so much to the Akron Community Foundation for their support of Arts Programming at the
G.A.R. Hall