The Peninsula Foundation supports the Arts Community by presenting Voices in the Valley, a showcase of traditional roots music. So kick back, relax and join us for a night of music in the Historic G.A.R. Hall. Beer, Wine and adult beverages available.
Specialty flatbread pizzas, cheese plates, snacks and desserts available from Chef Ron Ramos, so come hungry!
Parking for the G.A.R. Hall is located directly across the street on the South West Corner of Route 303 and Riverview Road. There is handicap parking located directly in front of the G.A.R. Hall. Alternate Parking can be found 1 block away at Yellow Creek Trading Company after 5pm.  Or at Riverview Court (Ohio Hardwoods) on the Southeast Corner of the intersection of Route 303 and Riverview Road. Parking in Peninsula is always at a premium so if you are coming with friends, consider sharing a ride.  Thanks!
If you are looking for a way to sponsor the arts, please consider helping support the Voices in the Valley music program at the historic G.A.R. Hall. Operated by the Peninsula Foundation, this program features local and national touring musicians in the intimate setting of this beautiful, grand old hall. Your donation is tax deductible and very much appreciated. Thank you in advance for supporting the arts and arts programming in N.E. Ohio
April 21st- Kim Richey-Two-time Grammy-nominated Nashville-based singer/songwriter Kim Richey, who "writes some of the most beguiling melodies and freshest chord changes of her generation" (Washington Post), and "has built a career on blurring genre boundaries and confounding listeners' expectations".
Richey, a former professional chef, got her first record deal at 37 and has garnered success as a songwriter, co-writing two number one hits; the Grammy-nominated "Believe Me Baby I Lied" for Trisha Yearwood and "Nobody Wins" for Radney Foster. Other songwriting contributions include songs for Dixie Chicks, Jim Lauderdale, Brooks & Dunn and Patty Loveless. Her vocals also appear on albums by Ryan Adams and Shawn Colvin.
General Admission
Doors open at 7:30pm/ Music starts at 8pm
Pre-sale tickets $20.00
Just a few left! Purchase at Eventbrite
April 28th- Brent Kirby– He's a musician's musician. Respected by many for his tireless promotion of the North East Ohio music scene. Accurately described as the hardest working musician in Cleveland, we always consider it a good night when Brent stops by. With an arsenal of songs he has penned, you are never sure what you will hear, but you can be sure it will be a great show. This time around Brent is joined by his musical friends Ed Sotelo on bass and Russ Flanagan on keys, sure to be  a very special show. Please join us!
General Admission
Doors open at 7:30/ Music at 8pm
Pre-sale tickets- $10
Day of show- $13
Purchase tickets on Eventbrite
May 4th- Becky Boyd– "Becky Boyd, a singer of such strength, she could make a lot of 'No Girls Allowed' signs get ripped off the clubhouse doors… She possesses a powerful blues/jazz voice that's forceful, sensuous and as clear as spring water. If there's a jazz buff in the Cleveland area who hasn't heard Boyd sing yet, do something about that. She has got the art of scat singing down cold. Becky Boyd is a local talent to watch." – Steve Byrne, Scene Magazine- Well…that pretty much sums it up!! Becky Boyd is a force…one not to miss. She is both talented and entertaining and we just love her at the Hall. Don't miss the opportunity as she rolls into town with her band the Groove Train.
General Admission
Doors open at 7:30/ Music at 8pm
pre-sale tickets- $12
day of show- $15
Purchase tickets on Eventbrite
May 5th- Kristine Jackson– The first lady of Cleveland blues has planned a special evening for us at the G.A.R. Hall. KJ will perform an acoustic duo with conga player, Robert Booker. Performing mainly original music from both previous recordings and KJ's newest songs, soon to be released on her latest recording, this will sure to be a night you will not want to miss. I always look forward to an evening shared with Kristine. She is a special person and artists…pretty much sums it up!
General Admission
Doors open at 7:30/Music at 8pm
pre-sale $15/ day of show $20
Purchase tickets on Eventbrite
May 12th- Rachel Brown and The Beatnik Playboys– She plays piano, she plays guitar, she sings, she writes her own songs, she takes a classic and makes it her own…and did I mention this lady can sing!! Rachel Brown, she's one of the great talents in the N.E. Ohio music scene and the Beatnik Playboys are the perfect band for her. Come watch this lady shake the rafters. Always excited to present this fine ensemble at the Hall.
General Admission
Doors open at 7:30
$15 pre-sale/$17 at the door
Purchase tickets on Eventbrite
May 18th- A banjo duet… Mark Olitsky and Cary Moskovitz. So you may be thinking two banjos, nothing else? That's right,  Mark Olitsky plays a minstrel banjo, one of those nylon or gut-strung massive wonders that troll an octave below most banjos. Cary Moskovitz plays three different plectrum banjos. Plectrum banjos have a neck as long as a five-string, but only have four stings. There is a thoughtful pacing to their music, and the two banjos produce a far more nuanced sound than one might expect. By playing off of each other's rhythms, they achieve a complexity that belies there are only two instruments involved.
Touring in support of their recording Duets…we are happy for the to be coming to the Hall!
"Two men with two banjos make some fascinating music… This project is a wonder of banjo sounds that emphasizes space and subtleties over notes and bombast. If you love banjo music, this little gem is a dandy with a lot to offer. If you love old-time banjo, miss it at your own peril." — Bluegrass Unlimited
"Lovely stuff. So much depth of sound out of just two banjos." — Old Time News, UK
"Their banjos weave in and out in delightful and surprising ways… The entire album is filled with virtuosic banjo playing and is a must-have for banjo geeks and old-time music fans alike." — The Glory-Beaming Banjo
General Admission
Doors open at 7:30/Music at 8pm
Pre-Sale $10/ Day of show $14
Purchase tickets on Eventbrite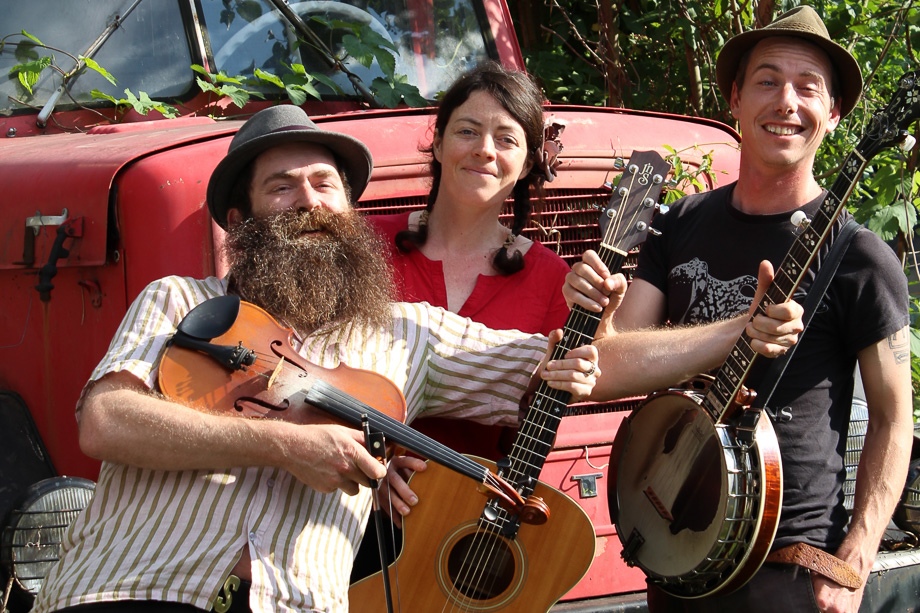 May 19th- The Corn Potato String Band– The Corn Potato String Band has earned high praise in traditional American music, keeping old time fiddle and banjo music from a one-way trip to the dustbins of history. Theirs is a story of struggle, hard knocks and triumph. Essentially unable to cope with modern life, the members of this band are outcasts of society who survive by playing the lost music of the flatlands where they were raised.
The Corn Potatos have delighted audiences with their driving fiddle tunes and harmonious singing across the US, Canada, Europe, Mexico, and India. They are all multi-instrumentalists dedicated to continuing the music and dance traditions of the Central and Southern US. In addition to being champion fiddlers they play banjo, guitar, bass and mandolin and deftly handle many different antiquated styles including ballads, "ho-downs," country "rags" and southern gospel, specializing in twin fiddling and double banjo tunes. This is the third time we have welcomed this band back to the Hall and we are very excited to have them again. Would LOVE to fill the Hall up this time. They are incredibly talented and fun musicians.
Opening the evening with be local favorites Jen Maurer and Anthony Papaleo. These folks are all good friends, I'm sure they will be playing some tunes together throughout the night…FUN!!!
General Admission
Doors open at 7:30, Music at 8pm
pre-sale tickets$15/ $20 day of show
Purchase on Eventbrite
May 25th– Cleveland singer-songwriter Thor Platter is a loyal purveyor of Americana music for many reasons. "The tradition and history of American music have influenced me my entire life; it encompasses many sounds and styles from many different eras," he explains. "Above all, it is just good music to your ears."  As with this show, Thor regularly performs as trio with Paul Kovac and Paul Lewis.
Platter, who grew up in Buffalo, NY, had a childhood seeped in rich musical influences – from Woodie Guthrie to Bob Dylan to Flatt & Scruggs – but his biggest inspiration to date has been Neil Young. "The way [Young] lived his life, the way he recorded, not being that mainstream guy–that was a heavy influence on me," he explains. "I've never wanted to be a pop star."
True to Young's experimental and personally driven nature, Platter approaches songcraft without specific genre boundaries, choosing instead to allow his music to evolve instinctually.
Platter has been the featured performer at multiple large local music festivals, and is a seasoned roadman, keeping up a steady schedule of regional gigs while continually working on new music.
Opening the eveing will be The Cory Grinder Band– The Cory Grinder Band are honky tonkers from Akron, Ohio writing original country tunes and playing great, classic, hillbilly music! The Cory Grinder Band is prepping to release their debut record, "Cahoots and Other Favorites" early in the summer of 2018. I'm sure we will be hearing a few of their tunes at their first time at the Hall!
General Admission
Doors open at 7:30/Music at 8pm
Pre-Sale-$12/Day of show $15
Purchase tickets on Eventbrite
May 26th- Caitlin Canty-Caitlin Canty is an American singer/songwriter whose music carves a line through folk, blues, and country ballads. Her voice was called "casually devastating" by the San Francisco Chronicle and NPR Music describes her songs as having a "haunting urgency."
Motel Bouquet, Canty's third record, features ten original songs that hold her darkly radiant voice firmly in the spotlight. Produced by Grammy-nominated Noam Pikelny (Punch Brothers) and recorded live over three days in Nashville, the album boasts a band of some of finest musicians in roots music, including fiddler Stuart Duncan and vocalist Aoife O'Donovan. Rolling Stone hails Motel Bouquet as "dreamy and daring" with "poetic lyrics and haunting melodies."
Since the release of her critically-acclaimed Reckless Skyline in 2015, Canty has put thousands of miles on her songs, circling through the U.S. and Europe. She warmed up stages for The Milk Carton Kids and Gregory Alan Isakov and recorded with longtime collaborators Darlingside and with Down Like Silver, her duo with Peter Bradley Adams. She won the Troubadour songwriting competition at the Telluride Bluegrass Festival, and her song, "Get Up," was nominated for Song of the Year in the Folk Alliance International Music Awards. Canty's original recordings have recently appeared on CBS's Code Black and on the Netflix original series House of Cards.
Raised in small-town Vermont, the daughter of a school teacher and a house painter, Canty earned her degree in biology in the Berkshires and subsequently moved to New York City. She spent her days in the city working as an environmental sustainability consultant and her nights making music at Lower East Side music halls and bars. In 2009, she quit her job and set out to make music full time. In 2015, she packed up her house plants and her 1939 Recording King guitar and drove to Nashville, TN, which she now calls home.
General Admission
Doors open at 7:30/ Music at 8pm
$17 pre-sale/ $22 day of show
Purchase tickets on Eventbrite
June 2nd- The Page Turners, Carolyn Kendrick and Jake Howard, are an award-winning group (2016 Freshgrass Best Duo) who have a strong foothold in the acoustic music scene. As a native from Akron, OH, Jake is excited to bring his band back to his hometown of Akron, OH where he first started playing music. The Page Turners partnership began as musical friends at Berklee College of Music, and they started playing together through a mutual admiration for musical authenticity and adventurousness. They write sharp and adept original music, as well as put new twists on old favorites. All together, they blend their love of bluegrass, whiskey-fueled old-time, country, swing, and fearless song-writing into one all-purpose seasoning of good ole' fashioned roots music. Now on tour nationally, their debut album is available and you can catch them where they turn the page next.  Always fun when the hometown boy makes good and comes back to the town where it all started. One of the last shows Jake played with the Blue Ribbon Bluegrass Band was at the Hall before taking off to study at the Berklee School of Music.  Welcome home Jake!!
Doors open at 7:30/ Music at 8pm 
Pre-sale tickets- $12/ Day of show $15
General Admission
Purchase tickets on Eventbrite
June 10th- Joe Purdy– A few years back, if someone had started giving him some lip in the middle of a gig, Joe Purdy might have left the stage and beat a little sense into the guy. Nowadays, he's more likely to calm everybody down, assure the loudmouth that he was a welcome and important part of his audience and through words and warmth talk him into sitting back down and join everyone else in enjoying Purdy's extraordinary music.
What has happened to Joe Purdy? Some might call it growth, although he's already grown a lot in wandering from his Arkansas home state to Los Angeles, and from there toward and beyond further horizons. Along the way he's recorded a baker's dozen worth of albums. His songs have turned up on numerous TV shows and film soundtracks. He even received a special request from Pete Townshend to join him onstage. Purdy said yes.
Even so, in recent years the singer, songwriter and self-described "hillbilly" has come to see the world and his role in it somewhat differently. His new views chart the direction on his latest album, Who Will Be Next? which plants its feet deep in the tradition of Pete Seeger, Woody Guthrie, Bob Dylan, Phil Ochs and others while addressing immediate transgressions.
Purdy's determination to honor the giants of American folk while applying his unique skills as writer and passionate vocalist reveal just how much he has achieved and evolved as an observer and participant in our times. In addition to his recording and touring, Joe recently made his acting debut starring in the new feature film, American Folk, which won a Best New Film award at the Cleveland International Film Festival. It will be released nation-wide in 2018.
Opening the show for Joe Purdy will be N.E. Ohio's Erik Urycki of The Speedbumps.  It's going to be a great show!
General Admission
Pre-Sale Tickets- $19.00/Day of Show- $22.00
Doors open at 7:30/Music at 8pm
Purchase tickets on Eventbrite
FAQs
What are my transportation/parking options for getting to and from the event?
Parking for the GAR Hall is located on the Southwest corner of Route 303 and Riverview directly South of the 303. Overflow parking can be found on the Southeast corner of 303 at Riverview Court or at Yellow Creek Trading Company at 1685 Main Street
How can I contact the organizer with any questions?
The office phone number is 330-657-2528
What's the refund policy?
full refund between 7-10 days prior to event
More information about these shows coming soon!
June 1st- Dianna Chittester & Mark Lee Shannon
June 2nd- The Page Turners
June 15th- Donna the Buffalo

Please send all booking inquiries to karen@crookedrivercreative.com
Thanks so much to the Ohio Arts Council for their continued support of the Arts Programming at the Peninsula Foundation, including
Voices in the Valley
Words are not enough for all the gratitude we have for the countless people who have given to this program. You know who you are and Thank YOU so much! 

Jay Minkin for all his great press and support.  Check out his blog at minkinsmusic.wordpress.com