The Peninsula Foundation supports the Arts Community by presenting Voices in the Valley, a showcase of traditional roots music. So kick back, relax and join us for a night of music in the Historic G.A.R. Hall. Beer, Wine and adult beverages available.
Specialty flatbread pizzas, cheese plates, snacks and desserts available from Chef Ron Ramos, so come hungry!
Parking for the G.A.R. Hall is located directly across the street on the South West Corner of Route 303 and Riverview Road. There is handicap parking located directly in front of the G.A.R. Hall. Alternate Parking can be found 1 block away at Yellow Creek Trading Company after 5pm.  Or at Riverview Court (Ohio Hardwoods) on the Southeast Corner of the intersection of Route 303 and Riverview Road. Parking in Peninsula is always at a premium so if you are coming with friends, consider sharing a ride.  Thanks!
If you are looking for a way to sponsor the arts, please consider helping support the Voices in the Valley music program at the historic G.A.R. Hall. Operated by the Peninsula Foundation, this program features local and national touring musicians in the intimate setting of this beautiful, grand old hall. Your donation is tax deductible and very much appreciated. Thank you in advance for supporting the arts and arts programming in N.E. Ohio!
Click here for Voices in the Valley Sponsorship brochure
Click here to follow Voices in the Valley on Facebook
September 22nd- The Railsplitters- The Railsplitters kick off our Music on the Porches 2017 event!
In 2013, only days after their debut CD release, backed by an impressive $10,000+ Kickstarter campaign, The Railsplitters performed at Rockygrass and earned the title of "Best New Band."
They would soon become a tried-and-true staple of the Colorado music scene
In 2015, The Railsplitters went full-time and released its second album, The Faster It Goes. Since then, on the strength of their material —which carries enough mesmerizing bluegrass to appeal to the purists, enough freshness to land on the official Spotify Indie Bluegrass playlist and enough pop hooks to crossover to listeners who've never bought or streamed a bluegrass album—The Railsplitters have performed at some of the most prestigious bluegrass (and not bluegrass) festivals in the country, including Delfest, Green River Festival, Salmon Jam, Grey Fox Bluegrass Festival and Rockygrass; toured the UK twice and have opened for or co-billed with The Steeldrivers, Trout Steak Revival, Noam Pikelny, Aoife O'Donovan, Milkdrive, Dustbowl Revival, Front Country and more.
The band's fast rise from casual Colorado jammers to critically-acclaimed national artists can only be explained by their melodic songwriting, featuring compositions from all 5 of the Railsplitters, who all double duty on harmonies, their impeccable musicianship and the songbird-like vocal of lead singer Lauren Stovall, whose expressive phrasing, spot-on pitch and perfectly-controlled vibrato make a voice that is both instantly recognizable and a throwback to the classic country/rock era of the 70's.
Pre-sale- $15
Day of show-$20
General Admission
Doors open at 7:30/Music at 8pm
Purchase Tickets at Eventbrite
September 23rd- Tim O'Brien with special guests Sean Watkins, Erynn Marshall and Carl Jones at Music on the Porches- Every year we close the Music on the Porches event with a concert at the G.A.R. Hall. Each year we work to find artists that embody and highlight the spirit of the day, which is a celebration of Music and Art in the Cuyahoga Valley and the community these events embrace and nurture. This year we are both thrilled and proud to present and welcome an evening with Erynn Marshall & Carl Jones,  Sean Watkins and Tim O'Brien…same night, same bill at the Historic G.A.R. Hall. For information on all of the Music on the Porches event please click here!
Erynn Marshall and Carl Jones are old-time musicians and inspired tunesmiths. They are married – in life and music. When they play, their instruments and voices blend like two forks of the same  river. Southern song-duets and soaring fiddle, guitar, mandolin, banjo tunes comprise their diverse concert sets. They play with ease, spontaneity and vitality. While rooted in the traditional sounds of older players, this duo stays true to their own muse. Carl's honest songs can make your heart ache. Erynn's spirited fiddling can enthrall. Together Carl & Erynn's expressive, musical meanderings can transport the soul
Sean Watkins-Singer, songwriter and multi-instrumentalist Sean Watkins has long been known for his work as one-third of the Grammy Award-winning Nickel Creek. Watkins has been a performer for more than 25 years. He was a mere 12 years old when he played his first gig in Nickel Creek, with sister Sara on fiddle and Chris Thile on mandolin. The trio's star ascended quickly; a progressive bluegrass following grew into a large mainstream audience. On his own, Watkins displays tremendous warmth and soulfulness as a singer, a refreshing candor and humor as a lyricist, and prodigious skill as an arranger. As a writer, Watkins deftly juggles the observational and the autobiographical, convincingly taking on the personalities of others – then creating them with a voice that is clearly his own.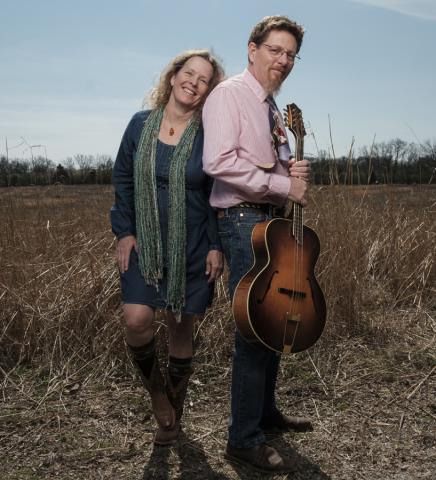 Tim O'Brien-Born in Wheeling, West Virginia, Grammy winning singer songwriter and multi instrumentalist Tim O'Brien grew up singing in church and in school, and after seeing Doc Watson on TV, became a lifelong devotee of old time and bluegrass music. Tim first toured nationally in the 1980's with Colorado bluegrass band Hot Rize. Kathy Mattea scored a country hit with his song Walk The Way The Wind Blows in 1986, and soon more artists like Nickel Creek and Garth Brooks covered his songs. Over the years, Tim has released 15 solo CD's, as well as collaborations with his sister Mollie O'Brien, songwriter Darrell Scott, and noted old time musician Dirk Powell. He's performed or recorded with Steve Earle, Mark Knopfler, Bill Frisell, and Steve Martin, and produced records for Yonder Mountain Stringband, David Bromberg, and Canada's Old Man Luedecke. His newest release Where the River Meets the Road features songs from his native West Virginia. Bluegrass and Americana covers from songwriters Hazel Dickens, Billy Edd Wheeler, and Bill Withers sit alongside heartfelt autobiographical originals, with help from collaborators like Chris Stapleton, Kathy Mattea, Stuart Duncan, and Noam Pikelny.
We are more than excited to have these two fine musicians join us for what is sure to be an amazing night of music at the G.A.R, Hall.
Music on the Porches is proudly brought to you by The Peninsula Foundation, The Conservancy for the Cuyahoga Valley National Park and The Peninsula Area Chamber of Commerce with financial support from the Jelm Foundation and the Ohio Arts Council.
Doors open at 6:30/ Music at 7pm
General Admission
Pre-Sale Tickets-$42
Day of Show-$47
Purchase tickets on Eventbrite
Music on the Porches Master Classes and Workshops
September 23rd- The Railsplitters, Vocal Harmonizing workshop at Music on the Porches
"The Railsplitters are one of the most exciting bands to come on the scene in a long time. The complexity of their arrangements, the beauty of their vocals, and excitement in their performance should put them right in the center of your radar. Catch the Railsplitters, you'll dig 'em!"-Stephen Mougin, Sam Bush Band
We are happy to offer a Vocal Harmonizing Master Class Workshop at Music on the Porches with one of the most exciting bands to emerge from the Colorado Bluegrass scene.  The Railsplitters are great musicians, we know and admire that, but much of their unique sound comes from their incredible harmonies. The voice is a powerful instrument and learning to blend multiple voices to make a beautiful sound is truly an art. Come and learn from some of the best!
Time- 11am-noon
Place- The Bronson Church
Price- $10
Space is limited so reserve your spot today!
Purchase tickets on Eventbrite
September 23rd-Master Old Time fiddle class with Erynn Marshall and Carl Jones present the life and music of Melvin Wine- Melvin Wine was born April 20, 1909, in Stout's Run, Braxton County, West Virginia to a particularly musical family. His mother and grandfather were ballad singers and his father and great-grandfather were fine fiddlers. Melvin received both the Vandalia award as well as a National Heritage Fellowship by the National Endowment for the Arts and was considered a national treasure. Although a master musician with a very traditional style Melvin was known most for his warm nature and hospitality. He played fiddle right up until he passed away – a month before his 94th birthday. In this class we will share some stories of Melvin Wine and Erynn will teach one or two of his signature fiddle tunes that were passed down in his family for generations. Video-taping is welcome. Recording devices are encouraged.
Level: Intermediate
4:30pm – 5:30pm The G.A.R. Hall
$15-  Purchase tickets at Eventbrite
Make your reservations early as space is limited and this will sell out!

Doug Unger and Mark Ward– world re-known Luthier and Peninsula treasure, Doug Unger shares his art of being a Luthier, which he practices in his workshop here in Peninsula Ohio. Apprentice and fellow luthier and musician Mark Ward will join Doug to discuss this art and demonstrate the fine craft of making a beautiful string instrument.  Doug is known for his intricate in-lay work and Doug Unger instruments can be found around the world in the hands of musicians or on display for their beauty.  You will be treated to Doug and Mark playing you a few tunes if you stop in…they can't help it, that's what musicians do!!!  They will be set up and ready to greet you at the Bronson Church from 1-4pm.This workshop/demonstration is free and open to the public.
September 23rd- Master Banjo Class with Mark Olitsky- known as The Banjo Wizard of Cleveland, Mark Olitsky first sought to learn Bluegrass Banjo and was told he should first learn Old Time Banjo from his friend, Peter Smakula who used to run Goose Acres Fold Music Store in Cleveland. Mark never went back to Bluegrass finding his muse in Old Time. Olitsky varies his playing to complement the Old Time  fiddler while driving the rhythm. Sometimes you'll hear him play high up the neck, and other times he'll play a bassier accompaniment. You'll hear a popping pulse, but you'll also hear his virtuosic approach to melody, counter-melody and harmony. Join Mark as he answers your questions about old time banjo, explains and demonstrates his unique banjo style and goes through some of the basics you will need to play Old Time banjo.  So bring your banjo and learn a tune or two from a Cleveland treasure. Thanks to Bradley Kramer for his blog featuring Mark Olitsky entitled Mark Olitsky:The Banjo Wizard of Cleveland for his words describing Mark's work and contributions to the Northeast Ohio Old Time Music Scene. Read more at http://glorybeamingbanjo.blogspot.com/2011/02/banjo-wizard-of-cleveland.html?fref=gc&dti=92131811117
12 noon- 1pm- The G.A.R. Hall
This workshops is free to the public
September 23rd- 2pm-3pm -"An acoustic/bluegrass guitar and songwriting Q&A with Sean Watkins"-Unlike most of his peers, Watkins has been a performer for more than 25 years. He was a mere 12 years old when he played his first gig in Nickel Creek, with sister Sara on fiddle and Chris Thile on mandolin. Singer, songwriter and multi-instrumentalist Sean Watkins has long been known for his work as one-third of this Grammy Award-winning Nickel Creek and, more recently, for helming, with sister Sara, the itinerant, genre-hopping Watkins Family Hour ensemble. But in the last year he has more assertively – and impressively – taken on the role of solo artist.
So bring your guitar and your quetions for a "sit down session" with Sean Watkins.
Class size is limited so purchasing your spot in advance is recommended!
2pm-3pm– The G.A.R. Hall
$15.00-Purchase tickets on Eventbrite
please make your reservations in advance as class size is limited

These Master Class workshops and demonstrations are presented by the Conservancy for the Cuyahoga Valley National Park and The Peninsula Foundation through the generous support from The Ohio Arts Council and the Jelm Foundation.
September 29th- De Temps Antan– It takes a special blend of musical flair to create memorable songs of yesteryear! Songs with a hint of contemporary—dosed with uncontrolled laughter, deep-rooted couplets and sudden, impromptu shifts—that speak to familiar rhythms of the past. Welcome to the original musical stylings of De Temps Antan!
Since 2003, De Temps Antan have been exploring and performing time-honoured melodies from the stomping grounds of Quebec's musical past. Using fiddle, accordion, harmonica, guitar, bouzouki and a number of other instruments, De Temps Antan blend boundless energy with the unmistakable joie de vivre found only in traditional Quebec music.
General Admission
Doors open at 7:30/ Music at 8pm
Early Bird tickets until 9/18- $20
Tickets after 9/19 until showtime- $25
Purchase tickets on Eventbrite

September 30th- The Numbers Band– Many people talk about The Numbers Band as a legend here in the N.E. music scene, a classification well deserved for many reasons. Most would refer to their longevity which is certainly something to be admired, but if you are a Numbers Band fan, perhaps their most admired quality is their commitment to their music, their rejection of the mainstream and their perseverance to continue to do this business their way.  We are always honored to present the legend, the Numbers Band at the G.A.R. Hall.  If you are coming, be sure to where your party hat, we will be celebrated Robert Kidney's birthday!!!
Doors open at 7:30/ Music at 8pm
General Admission
$12 entry fee
October 7th-Paul Kovac's CD Release Party
– Join us as we celebrate with Paul Kovac the release of his latest recording "Ohio Bluegrass the the Appalchian Plateu".  If you know Paul, you know his heart has long been anchored in Bluegrass music and he has been preaching and playing the classics and honoring the history of this feel good music long before it began to gain it's recent resurgence.
This show will feature the original songs from Paul's new Bluegrass recording, with the band that recorded them!, as well as some Bluegrass classics, performed in the best acoustic music room in NEOH. (Paul said that not me!)
Joining Paul, will be David Mayfield (mandolin/vocals), Kevin Johnson (Bass), Ronnie Bonkowski (guitar/vocals), & Billy Lestock (fiddle).  Please come & join the fun!
General Admission
Doors open at 7:30/Music at 8PM
pre-sale tickets-$12.00
day of show- $16.00
October 13th- The Honey Dewdrops, Laura Wortman and Kagey Parish are celebrating their 9th year of touring full time, having played stages in North America and Europe. With tight harmonies an a musical ensemble that includes clawhammer banjo, mandolin and guitars. the effect is to leave listeners with only what matters: the heart of the song and clarity over ornamentation.
Acoustic Guitar Magazine describes the set of songs from their lastest release, Tangled Country as "a handcrafted  sound centered on swarming harmonies and acoustic guitars that churn like a paddle wheel  and  shimmer  like  heat waves on the highway."
Long time a favorite at the Hall…we hope you will join us for night with the Honey Dewdrops.
General Admission
Doors open at 7:30/Music at 8pm
Pre-Sale-$15
Day of show-$20
Purchase tickets at Eventbrite
October 27th- April Verch-Fiddler, singer, and stepdancer April Verch knows how relevant an old tune can be. She was raised surrounded by living, breathing roots music—her father's country band rehearsing; the lively music at church and at community dances; the tunes she rocked out to win fiddle competitions. She thought every little girl learned to stepdance at the age of three and fiddle at the age of six. She knew nothing else and decided early on that she wanted to be a professional musician.
While Verch is perhaps best known for playing traditional fiddle styles from her native Ottawa Valley, Canada, her performances extend into old-time American and Appalachian styles and far beyond, for a well-rounded tour-de-force of North Americana sounds. Verch and her fellow trio members pare down their arrangements, highlighting the simple pleasures of upright bass, guitar, clawhammer banjo, voices, fiddle, and stepping in intimate conversation. At the heart lie Verch's delicate voice, energetic footwork, and stunning playing. Sometimes she sings, steps and fiddles all at once, with apparent ease and precision. Verch is – as they say – a triple threat in performance, her live show a beautiful companion to her music: versatile, robust, and masterfully executed.
General Admission
Doors open at 7:30/Music at 8pm
pre-sale tickets-$18
day of show-$22
Purchase tickets on Eventbrite
November 3rd- Noam Pikelny–Universal Favorite is the fourth record Noam Pikelny has released under his own name, but it's truly his solo debut. His previous efforts—including 2011's Beat the Devil and Carry a Rail and 2014's landmark Noam Pikelny Plays Kenny Baker Plays Bill Monroe—were full-band affairs that revealed his abilities as a dynamic bandleader while reinforcing his reputation as an inventive accompanist. The new release features only the man himself, playing lovely originals and covers that showcase his unique approach to the instrument and compositional flair. He recorded them live in the studio without accompaniment, coaxing a wide array of sounds and colors out of his instruments, embracing the challenges and exploring the new possibilities of the solo setting.
And, for the first time in his long and illustrious career, Pikelny even sings. It turns out he has a striking deadpan baritone that conveys humor and melancholy in equal measure. This album, he says, is "my musical manifesto. It's the most personal statement I've put forward. The setting couldn't be more stark and I think it lays bare my musical core. At times it's autobiographical, as these songs I gathered illuminate the path I've traveled so far. Most importantly, it's an incredibly honest solo album, in that there are honestly no other people on this record other than me."
Early Bird tickets- $32.00
Pre-sale tickets after August 10th- $37.00
General Admission
Doors open at 7:15PM
Music at 8PM
Purchase tickets at Eventbrite here

December 16th- Jill Andrews- A native of East Tennessee, Jill Andrews kicked off her songwriting career as co-founder of The Everybodyfields, a band whose mix of Southern genres – folk, country, bluegrass – and male-female vocals helped pave the way for future groups like The Civil Wars. It earned The Everybodyfields a wide fan-base too, as well as appearances at Bonnaroo, The Kennedy Center, and a cross-country tour with The Avett Brothers. After three albums, Andrews left that band and launched a solo career, starting with a self-titled EP and a full-length record, The Mirror, that built something bigger a broader on top of her Americana roots. She followed The Mirror with the acclaimed The War Inside featuring a duet with Seth Avett.
Since releasing The War Inside, Andrews has remained busy touring and writing, opening shows for acts such as The Avett Brothers, Drew Holcomb & the Neighbors, Sean Watkins, and Mandolin Orange, as well as headlining her own shows throughout the country. Collaborations with friends like Langhorne Slim and Peter Groenwald have led to the digital release of a handful of duet singles. These songs feel present, and they're delivered the way Andrews always delivers them: with raw emotion that is as real to her as it is to the listener.
Pre-sale tickets $15.00
Day of Show- $ 20.00
General Admission
Doors open at 7:30pm
Music at 8pm
purchase tickets on Eventbrite
FAQs
What are my transportation/parking options for getting to and from the event?
Parking for the GAR Hall is located on the Southwest corner of Route 303 and Riverview directly South of the 303. Overflow parking can be found on the Southeast corner of 303 at Riverview Court or at Yellow Creek Trading Company at 1685 Main Street
How can I contact the organizer with any questions?
The office phone number is 330-657-2528
What's the refund policy?
full refund between 7-10 days prior to event
More information about these shows coming soon!
November 11th- Rachel Brown and the Beatnik Playboys
November 16th- Laura Cortese and the Dance Cards
November 18th- Becky Boyd and the Groove Train
December 9th- Ohio City Singers
December 17th- Sisters in Song
December 30th- A Blues Gathering
February 9th- Griffin House

Please send all booking inquiries to karen@crookedrivercreative.com
Thanks so much to the Ohio Arts Council for their continued support of the Arts Programming at the Peninsula Foundation, including
Voices in the Valley
Words are not enough for all the gratitude we have for the countless people who have given to this program. You know who you are and Thank YOU so much! 

Jay Minkin for all his great press and support.  Check out his blog at minkinsmusic.wordpress.com