The Peninsula Foundation supports the Arts Community by presenting Voices in the Valley, a showcase of traditional roots music. So kick back, relax and join us for a night of music in the Historic G.A.R. Hall. Beer, Wine and adult beverages available.
Specialty flatbread pizzas, cheese plates, snacks and desserts available from Chef Ron Ramos, so come hungry!
If you are looking for a way to sponsor the arts, please consider helping support the Voices in the Valley music program at the historic G.A.R. Hall. Operated by the Peninsula Foundation, this program features local and national touring musicians in the intimate setting of this beautiful, grand old hall. Your donation is tax deductible and very much appreciated. Thank you in advance for supporting the arts and arts programming in N.E. Ohio!
Click here for Voices in the Valley Sponsorship brochure
Click here to follow Voices in the Valley on Facebook

October 28th- Brent Kirby and His Luck– These guys are becoming regulars at the Hall and we are happy about it!  They were here when they first started and they have gotten better and better each time.  Brent Kirby is one of Cleveland's most beloved musicians, often called the hardest working musician in Cleveland, and he has found a band to back him up that will knock your socks off.  Come out and catch Brent and the Boys as the rock the G.A.R. Hall!
Doors open at 7:30. General Admission.
$11 pre-sale/ $15 day of show
purchase tickets here
October 29th- The Numbers Band- So…It's Halloween! The number one question asked about the G.A.R. Hall…IS THIS PLACE  HAUNTED???  Well…if there are spirits clunking around in the rafters, we haven't been able to draw them out, but maybe the legendary Numbers Band can do the honors.  If you grew up in N.E. Ohio in the 70's and 80's there is no possible way you did not know The Numbers Band.  They are still going strong, and doing it there own, unique way.  Join us for a hauntingly good night of music.
Doors open at 7:30, Music at 8pm. $7 cover at the door.
November 4th and 5th- The Speedbumps– One of North East Ohio's favorites, The Speedbumps are coming back for TWO shows in November.  Erik and company will be playing your favorite Speedbumps tunes as only they can.  The band has been busy spreading the Speedbumps groove on the road, and do not play the N.E. Ohio area often,  so we are excited to welcome them back home to the G.A.R. Hall for what is sure to be two special nights.
November 4th welcome opening act Hebdo, on November 5th Dickie does the opening honors
Doors open at 7:00, Music at 8pm
General Admission
$20 pre-sale/$25 day of show
purchase tickets here
November 11th- Lindsay Lou and the Flatbellys– When Lindsay Lou & the Flatbellys found each other jamming at open mics and music festivals around Michigan they couldn't have predicted what would lie ahead of them. In the past year alone, touring behind the release of their most recent record, Ionia, they've been featured in the lineup of prestigious affairs such as The Shetland Island Folk Festival 200 miles north of mainland Scotland, Stagecoach Music Festival in California, The Bluegrass Jamboree all over Germany, and a number of the best acoustic music festivals in the US including Wheatland Music Festival in Michigan, Strawberry Music Festival in California, Redwing Roots Festival in Virginia, and Pagosa Springs Folk Festival in Colorado. To round out the year they were named one of NPR Music's 12 best live performance sessions of 2015 by Mountain Stage with Larry Groce, a program which has featured acts like Gillian Welch and David Rawlings, Amos Lee, Joan Baez, Regina Spektor, Norah Jones and PHISH.
Lindsay Lou and the Flatbellys keep one foot in The Great Lakes State and the soul of Motown, and one in Music City, USA: Nashville, TN. They still embody the soul of a good jam or late night pickin' session, and also have honed in on a sound that's entirely their own drawing from soul, blues, folk, jazz and maybe even a traces of that techno beat.
pre-sale $17/ day of show $22/ general admission
doors open at 7:30/ music at 8pm
purchase tickets here
November 18th- Hey Mavis– Sensual and Innovative Roots Music. Americana band "Hey Mavis" is back at the G.A.R. Hall.
"Wrapped in original songs whose styles range from old timey to jazzy to blistering alt rock, Laurie's voice turns from cold steel to melted butter in the time it takes your heart to break." – Don Dixon
Pre-sale – $15.00
Day of Show – $20.00
General Admission/doors open at 7:30.  Music at 8pm
purchase tickets here

November 19th- EMILY KEENER cd release party with back up band the Womacks- Ohio's own EMILY KEENER is releasing her new record! Since her exciting journey into the Top 12 on NBC's The Voice, she has been diligently writing and recording in an effort to capture the creative energy of this most transformative year. Emily is looking forward to sharing her newest batch of recorded music on the highly anticipated LP, Breakfast.  Very excited Emily has chosen to do a release party at the G.A.R. Hall.
Breakfast is a lush gathering of Emily's finest original works to date. New songs are brought to the table, paired with older, unreleased favorites–presented in an entirely new, bold, and unexpected context. Thanks to the imaginative work of producer Noah Heyman and the team at Waveburner Recording, the "fresh, effervescent" voice of this young singer/songwriter shines through powerfully. Emotive lyrics, expressive melodies, and intriguing arrangements are brought to life with the help of this area's brightest artistic minds.
Musicians Tony Schaffer, Noah Heyman, Haley Schaffer, Cory Webb, and Cory Boomer will be performing with Emily for this show. Join us!
Pre-sale – $20.00
Day of Show – $25.00
General Admission/doors open at 7:30/Music at 8pm
purchase tickets here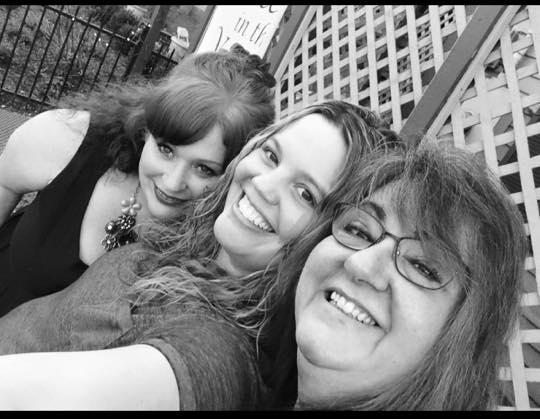 November 20th- Sisters in Song- Join us for a special night of song featuring Kristine Jackson, Becky Boyd and Rachel Brown, accompanied by Emma Shook  from the Cleveland Orchestra on violin. These ladies take it to a a higher level when they share songs, stories, laughs and sometimes some tears in a special night of music.
Pre-sale – $15.00
Day of Show – $20.00
General Admission/doors open at 6:30/Music at 7pm
purchase tickets here
December 9th- The Ohio City Singers– The Ohio City Singers were formed at a Christmas party many years ago. A collection of musicians and friends, drinking eggnog, sharing holiday stories, singing Christmas carols. But these carols weren't the same old songs you hear filtering out from the malls at Christmas time. These songs were their own stories of candle bags and snow flakes, celebrating the holidays with family and friends.
This is one of the biggest events we have the entire Holiday season at the G.A.R. Hall. This band is packed with Cleveland's best, an all-star line-up.  When they get together to sing their holiday cheer, the party begins and doesn't stop until they do!  You will sing, you will dance and I guarantee it will become one of your favorite holiday traditions!
Doors open at 7pm/ Music at 8pm
General Admission/ $20 pre-sale/$25 day of show
purchase tickets here
February 3rd- We Banjo3- Award-winning quartet We Banjo 3+1 from Galway, Ireland combine Irish Music with Old-Time American and Bluegrass influences to reveal the banjo's rich legacy and roots.  Featuring banjo, fiddle, mandolin, guitar, vocals and percussion,  We Banjo 3 make a bold and extraordinary musical statement. Creativity, sensitivity and passion are present in full measure and Irish music is at the heart of what they play. 
Collectively, WeBanjo3 have been at the forefront of Irish banjo and fiddle for 2 decades. Their competitive success is unrivalled, Martin holding 7 All Ireland titles, Enda with 4, while Fergal and David hold All Ireland titles on Banjo, Fiddle, Bodhran and Guitar.   Enda has recorded and performed with The Chieftains, Frankie Gavin, Stockton's Wing, Grammy-winner Ricky Skaggs and "Instrumental Band of the Decade" The Brock McGuire Band. Fergal has performed with David Munnelly, Martin O'Connor and Kevin Crawford and has toured the world with Ragus and Celtic Legends. 
Tickets on sale soon!
More information about these shows coming soon!

November 12th- Neil Young Night Fundraiser
November 17th- Brent Kirby's Conversations
November 19th- Emily Keener Cd Release party
November 23rd- The Mostly Blues Band
November 25th- Mo Mojo
November 26th- The Gage Brothers
December 2nd- TBA
December 3rd- TBA
December 10th- Rachel Brown and the Beatnik Playboys
December 16th-Cats on Holiday
December 17th- Hillbilly Idol
December 18th- Four Songwriters in the Valley
December 23rd- TBA
December 30th- Roger Hoover
December 31st- Brent Kirby's NYE Bash

Please send all booking inquiries to karen@crookedrivercreative.com
Thanks so much to the Ohio Arts Council for their continued support of the Arts Programming at the Peninsula Foundation, including
Voices in the Valley
Words are not enough for all the gratitude we have for the countless people who have given to this program. You know who you are and Thank YOU so much! 

Jay Minkin for all his great press and support.  Check out his blog at minkinsmusic.wordpress.com