The Peninsula Foundation supports the Arts Community by presenting Voices in the Valley, a showcase of traditional roots music. So kick back, relax and join us for a night of music in the Historic G.A.R. Hall. Beer, Wine and adult beverages available.
Specialty flatbread pizzas, cheese plates, snacks and desserts available from Chef Ron Ramos, so come hungry!
Parking for the G.A.R. Hall is located directly across the street on the South West Corner of Route 303 and Riverview Road. There is handicap parking located directly in front of the G.A.R. Hall. Alternate Parking can be found 1 block away at Yellow Creek Trading Company after 5pm.  Or at Riverview Court (Ohio Hardwoods) on the Southeast Corner of the intersection of Route 303 and Riverview Road. Parking in Peninsula is always at a premium so if you are coming with friends, consider sharing a ride.  Thanks!
If you are looking for a way to sponsor the arts, please consider helping support the Voices in the Valley music program at the historic G.A.R. Hall. Operated by the Peninsula Foundation, this program features local and national touring musicians in the intimate setting of this beautiful, grand old hall. Your donation is tax deductible and very much appreciated. Thank you in advance for supporting the arts and arts programming in N.E. Ohio!
Click here for Voices in the Valley Sponsorship brochure
Click here to follow Voices in the Valley on Facebook
February 23rd- Missy Raines and the New Hip– Raines' bluegrass roots are deep and long-reaching with touring and recording stints with 1st generation legends such as Eddie Adcock, Mac Wiseman, Jesse McReynolds, Josh Graves and Kenny Baker. A former member of the Claire Lynch Band, The Brother Boys, and one half of the acoustic super duo, Jim Hurst and Missy Raines, Missy is one of the most respected and popular figures within the bluegrass community.
With a smokey and seductive alto, 7 Time IBMA Bass Player of the Year, Missy Raines, heads up this all-acoustic ensemble. The territory The New Hip covers is broad and the compass is set by Raines, planted right in the center of the stage directing with her bass every bit as much as she's playing it. Raines, "…launches her well-tended craft off the bluegrass dock into the waters of jazz and folk, holding onto the anchor of bluegrass while pushing steadily at the boundaries of the music that engulfs her." -Country Standard Time
Doors open at 7:30/Music at 8pm
General Admission
Pre-Sale tickets- $15
Day of Show-$20
Purchase tickets on Eventbrite
March 2nd-  Laura Cortese and the Dance Cards– Ambition often follows talent, and Laura Cortese has an embarrassment of both. Her open armed approach to her art reveals a determination to spread the word about folk music and dance without watering down the distinctiveness- John Wenzel- The Denver Post.
Cutting her teeth as a sideman in Boston's roots music scene, Laura Cortese forged a unique path through a pool rich in talent (due to a large population of Berklee School of Music graduates like herself) including stints as an instrumentalist with Band of Horses, Pete Seeger, Rose Cousins, Jocie Adams (of the Low Anthem), and Uncle Earl. Her Compass Records debut, CALIFORNIA CALLING, is the next step in her career as a frontwoman and bandleader – she and her Dance Cards, break new ground with a bold and elegant new album, based in the lyrical rituals of folk music but exploring new territories of rhythm and sonics. With the support of Sam Kassirer, album producer of folk-pop favorites like Lake Street Dive and Joy Kills Sorrow, they've created something that's simultaneously rowdy, delicate and cinematic. This is post-folk that seriously rocks. On their CD release tour, Cellist Valerie Thompson (cello/vox), fiddler Jenna Moynihan (fiddle/vox), and Zoe Guigueno (bass/vox) pair their sophisticated string arrangements and rich vocal harmonies to band leader Laura Cortese's poignant and powerful singing. This is the 3rd time we've had these talented young ladies at the Hall…let's fill up the room…they are awesome!
Doors open at 6:30/ Music at 7pm
General Admission
$15 pre-sale/$20 at the door
Purchase Tickets on Eventbrite

March 3rd- Paul Kovak's Ohio Bluegrass– Paul Kovak and some of his favorite "pickers" roll into the Hall to play original Ohio Bluegrass done their way, from the Appalchian Plateu.  Nothing but fun here folks, along with Paul's penned tunes, you can be sure they will serve up some of your favorite tunes from the legends of Bluegrass. So happy to have this show coming back to the Hall.
General Admission
Doors open at 7:30/ Music at 8pm
pre-sale tickets $13.00
Tickets at the door if available- $16.00
Purchase Tickets on Eventbrite
March 8th- We Banjo 3– One of the best live acts to come out of Ireland in recent years is the multi-awarded winning We Banjo 3. With a 7 time all Ireland banjo champ, a 4 time banjo champ, and another member who is an all Ireland champ on both fiddle and Bodhran, and with a passionate lead vocalist like a young Springsteen adopted by the Chieftains, the result is truly unforgettable. On both sides of the Atlantic the word is out about this group.
WB3 performed at the "Friends of Ireland" luncheon on Capital Hill attended by House Speaker Paul Ryan, President Barack Obama, Vice President Joe Biden, and Irish Prime Minister Enda Kenny and has headlined virtually every major US Celtic fest for several years in a row. Now the band is rapidly gaining favor in the Bluegrass and Americana world as evidenced by their invites to Merlefest, ROMP Fest, Sisters Folk Fest, Old Settlers Fest, Four Corners Fest and others.
Opening for We Banjo 3 will be Talisk– Coming from Scotland, this is a band on the move and they have the accolades to prove it…Winners of the 2017 MG Alba Scots Trad Music Awards' Folk Band Of The Year, 2015 BBC Radio 2 Folk Awards' Young Folk Award and nominees of the 2017 BBC Radio 2 Folk Awards' Horizon Award, Talisk are one of the fastest rising bands on the UK folk scene in recent years.
This is going to be a killer show…a great way to get your green on with St Patty's right around the corner!
General Admission
Pre-Sale Tickets- $27.00
Day of show-$30.00
THIS SHOW IS SOLD OUT!!!  Thanks to everyone who purchased their tickets in advance
March 9th- A St. Pat's Celebration featuring John Whelan, Katie McNally and Low Lilly– Legendary Irish accordion champion John Whelan teams up with the American Roots band Low Lily and Scottish-style fiddler Katie McNally for a spectacular St. Pat's Celebration! Exploring the Roots music of Ireland, Scotland, and America, this diverse and energetic show will showcase fiery uptempo jigs and reels alongside lushly arranged songs, featuring three fiddles, accordion, guitars, mandolin, and harmonious vocals.
-Although JOHN WHELAN grew up near London in Dunstable, England, he was raised on the fiddle and pipe music of Ireland. Dunstable has a large Irish community, and his father, Denis, was from Ireland's County Wexford. "Ours was a very traditional household," John says. "My father didn't have any major vices – his only addiction was to Irish music."
–LOW LILY explores the roots and branches of American folk music, creating a unique brand of acoustic music that is rooted yet contemporary. Low Lily is Liz Simmons (vocals, guitar) Flynn Cohen (vocals, guitar, mandolin) and Lissa Schneckenburger (vocals, fiddle). They are all masterful players, composers and arrangers with deep relationships to traditional music styles ranging from bluegrass to Irish, Scottish, New England and Old Time Appalachian sounds.
-"The new face of Scottish fiddling in the USA" (the Living Tradition), KATIE McNALLY has made waves in both the American folk music scene and abroad since the release of her debut album, Flourish, in 2013. A 2009 New England Scottish Fiddle Champion and recent cover girl for Fiddler Magazine, Katie has performed and taught fiddle courses in the U.S., Canada, Spain, Scotland, England, and France.
General Admission
Doors open at 7:30/ Music at 8pm
Early Bird tickets until February 12th- $20
Pre-Sale tickets at February 12th- $25
If available, tickets at the door will be $30 for this great show
This is going to be a really special night at the Hall.  I hope you will join us!
Purchase tickets at Eventbrite
March 10th- The East Pointers-fiddler/singer Tim Chaisson, banjoist Koady Chaisson and guitarist Jake Charron – have spent the last two years touring Canada, the US, the UK, and Australia in support of their JUNO Award winning album, Secret Victory. In 2016, they won 'Touring Artist of the Year' at the Music PEI Awards and 'Ensemble of the Year' at the Canadian Folk Music Awards. Their sophomore album, What We Leave Behind, produced by songwriter/producer Gordie Sampson, will be released in September 2017. What We Leave Behind carves a new path for The East Pointers, as they continue to blur the lines between traditional and popular music and develop a devoted fanbase around the globe. Looking forward to having these boys from Prince Edward Isle at the Hall for the first time!
click here for an East Pointers video
General Admission
Doors open at 7:30/ Music at 8pm
Pre-sale Tickets $15/ Day of show $20
Purchase tickets on Eventbrite
March 13th- Julian Lage-"There's a disarming spirit of generosity in the musicianship of Julian Lage, and a keener sense of judicious withholding. A guitarist with roots tangled up in jazz, folk, classical and country music, he has spent most of his life bathed in a bright, expectant light."
-New York Times
Lage was already an established guitar virtuoso when at age 27, he picked up the Telecaster for the Arclight sessions. That was, in a sense, a return to his roots: When he was four years old, his dad, a visual artist, had made him a plywood guitar, based on a Fender Esquire he'd traced from a Bruce Springsteen poster. As a young and preternaturally gifted musician, Lage found supporters in such artists as vibraphonist Gary Burton and veteran jazz guitarist Jim Hall, who would become Lage's mentor and friend. Though Hall passed away in 2013, he remains a profound influence on Lage. In fact, Lage first encountered Colley and Wollesen when they were backing Hall at the famed Bay Area jazz club, Yoshi's in Oakland, CA. Since then, Lage has more than fulfilled the promise of his youth, collaborating with a diverse range of fellow artists, including guitarist-singer Chris Eldridge of Punch Brothers, bassist Steve Swallow, and iconic avant-garde composer John Zorn; often appearing with the house band on Prairie Home Companion; and composing for and fronting this trio.  On this tour Julian will be bringing along Jorge Roeder on bass and Eric Doob on drums!  Great line-up, sure to be a great show!
General Admission
Doors open at 6:30/Music at 7PM
$20 pre-sale/ $25 day of show
Purchase tickets here on Eventbrite
March 16th- Mike Barnett – Portraits in Fiddles featuring Jordan Tice & Wes Corbett– Mike Barnett is no ordinary fiddler.  To his credit, he is currently holding the fiddle chair in "Ricky Skaggs and Kentucky Thunder", as well as the "Bryan Sutton Band," David Grisman says of Mike, "he is a first-class fiddle player and all-around musician. He's got the chops and knows how to use them, but he also has something to say, and that's a rare quality in music these days." Writing and recording his first album at the age of 14, shortly after this he started teaching fiddle at the Vanderbilt Blair School of Music International Fiddle Camp.
Mikes current project "Portraits In Fiddles" started out as a commemoration of my time spent with six heavy, musical, personal and professional influences: Bobby Hicks, Bryan Sutton, Buddy Spicher, David Grisman, Jesse McReynolds, and Tony Trischka. He wanted to celebrate the virtuosity and originality of these musical pioneers who have developed their own sound and forged new ground, while still maintaining a deeply rooted reverence for tradition. Mike wrapped the concept in the tradition of twin fiddling and as the project evolved it became more of a family affair, bringing together another 16 of the most influential and skilled musicians of our time, including Stuart Duncan, Tim O'Brien, and others. The end result is more than he could've hoped for – a family portrait of sorts.
We are very honored to bring Mike Barnett's Portraits in Fiddle Tour to the G.A.R. Hall. Joining Mike will be the incredible guitarist Jordan Tice and banjoist Wes Corbett.  These three will also be holding master classes the following day, March 17th as part of the G.A.R. Hall's "Strings and Things" master classes with some of the best. See March 17 for more information.
General Admission
Doors open at 7:30/Music at 8pm
Pre-Sale tickets-$15/$20 day of show
Purchase Tickets on Eventbrite
March 17th- Mike Barnett, portraits in fiddle class/workshop– In January of 2017, Mike Barnett joined Ricky Skaggs and Kentucky Thunder, replacing fiddle virtuoso Andy Leftwich. Mike currently plays with Ricky, as well as the Bryan Sutton Band, and tours with his own music as well.
Mike Barnett is an active clinician having taught at numerous fiddle camps all over the country including Live Oak Fiddle Camp, Christian Howes's Creative Strings Workshop, Rocky Grass Bluegrass Academy, Augusta Fiddle Camp,  Mount Shasta Fiddle Camp, and Crystal Plohman's Fiddle Camp at Vanderbilt University.
"I believe music is a vessel of self expression and individuality and means to connect with people. My goal is to help facilitate what one hears in their head to their chosen instrument with ease and fluidity.  The way one understands and learns to speak the language of music is very similar to learning a spoken language. There are many different meanings, interpretations, and opinions of what it means to be a "great musician", and no single way to "arrive" at this goal.
Developing a good ear and understanding different kinds of musical forms and structures can be very useful in developing a good sense of (musical) intuition and help facilitate communication through music.
No matter what style(s) of music you are moved and inspired by or to play, there are certain fundamental elements at the core of all of them. Eg: rhythm, harmony, melody, phrasing, expression. Through varying forms of technique, mechanics, exercises, etc., we can progress to a higher level of understanding and utilizing these elements."
Join us on Saturday morning, March 17th for a workshop with Mike at the G.A.R. Hall.
Pre-sale tickets are recommended as class size is limited
Doors open at 9:45
Class begins at 10AM
Pre-Sale- $15.00
At the Door-$20.00
Purchase tickets on Eventbrite

March 17th- Jordon Tice -Flat pick guitar workshop/class-Jordan Tice is a singular voice on the American roots music scene. Over the last ten years, he has developed a reputation as a unique and versatile guitarist and prolific composer of some of the most thoughtful and well-crafted tunes of his generation. Born into a bluegrass family in Maryland, Jordan started early, playing bluegrass and fiddle tunes with some of the best players in the fertile mid-atlantic bluegrass scene. He released his first solo record of mostly original music at the age of 17 called "No Place Better" (2005) to critical acclaim within the bluegrass world. He quickly followed it up with "Long Story" (2007) a collection of original instrumentals that featured an all-star band of Noam Pikelny on banjo, Casey Driessen on fiddle, Andy Hall on dobro, and Mark Schatz on bass.
The development of Jordan's creative work as a solo artist is only one narrative that defines his career. Since first busting onto the scene, he has also been an active sideman with progressive bluegrass pioneers like Frank Wakefield, Mark Schatz and friends, and Tony Trischka, lending his guitar playing to their endeavors both on stage and in the studio. He also contributed his mandolin playing skills to the Dave Rawlings Machine record "Nashville Obsolete" (2015), toured with the Canadian folk group, The Duhks, and worked with actor/comedian Steve Martin on his re-imagining of the Shakespeare play "As You Like It" for New York City's "Shakespeare in the Park".
Jordon's latest creative endeavour is Hawktail, featuring fiddler Brittany Haas (Crooked Still, Dave Rawlings Machine), bassist Paul Kowert (Punch Brothers, Dave Rawlings Machine) and mandolin great Dominck Leslie.
Known as a composer, an expert mandolinist, and exceptional flat picker, take this unique opportunity to sit down with Jordon Tice and learn some of his favortie flat picking techniques on the guitar.
Class size is limited, pre-sale tickets are recommended
doors open at 9:45am/ class begins at 10am
Pre-Sale- $15
At the door-$20
Purchase tickets on Eventbrite
Wes Corbett- Bluegrass Banjo workshop/class-A banjo player of uncommon grace and facility, Wesley Corbett began classical piano at the age of two. During high school he converted to the banjo and has spent the last 15 years studying, touring and teaching. Wesley has recorded and performed with numerous musicians, including Joy Kills Sorrow, The Bee Eaters, The Biscuit Burners, the David Grisman Quintet, Mike Marshall, Darol Anger, Robert Earl Keen, Crooked Still, Matt Glaser, Tony Trischka, Alan Munde, and others. Wesley served as the professor and grant manager of the banjo program at Berklee College of Music between 2011-2015. He toured internationally with the critically acclaimed acoustic string band Joy Kills Sorrow until 2014 which was featured on NPR's A Prairie Home Companion and Mountain Stage. He now tours with Molly Tuttle and lives in Nashville Tennessee.
Wesley Corbett has more than 10 years teaching experience, including 4 years as the banjo professor at Berklee College of Music. He enjoys playing and teaching all styles of 3 finger banjo. With a vital fluency in Scruggs style, he is additionally adept in blending single string and melodic style within composition and improvisation. His music instruction focuses on enabling students to effectively practice on their instrument which in turn, fosters self-learning and creativity.
The doors open at 9:45
The class begins at 10am
Pre-sale tickets are advised as class size is limited
pre-sale tickets- $15
day of class- $20
Purchase tickets on Eventbrite
March 17th- Cleveland's own original Irish Band Ballinloch will be stopping by the Hall on St Patty's day to celebrate the "wearin' of the green" with some traditional Irish music.  Ballinloch blends traditional tunes with sometimes haunting, sometimes uplifting original lyrics by songwriter, Marcus Dirk. Like true schanachies of old, Ballinloch's tales keep the hearth's fire lit with music that draws us back to our Celtic roots. Ballinloch has been playing music together, around Northeast Ohio, since 2015. Songwriter, Marcus Dirk is joined by seasoned Irish musicians Mary Ann Beach, Maureen Conway Reich, and Patrick Faith.
Come celebrate St Patty's day with us at the Hall!
Doors open at 7:30/ Music at 8pm
Pre-Sale Tickets- 12.00
Day of Show- 15.00
Purchase tickets on Eventbrite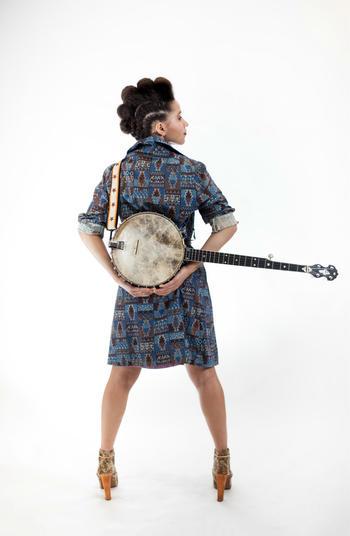 March 25th– African-Canadian roots phenom Kaia Kater couldn't have come on the scene at a better time. As a new generation takes the reins, American roots music is needed more than ever to remind us of the troubled pathways of our own history. Born of African-Caribbean descent in Québec, Kaia Kater grew up between two worlds: one her family's deep ties to Canadian folk music in her Toronto home; the other the years she spent learning and studying Appalachian music in West Virginia. Kaia's old-time banjo skills, jazz-fueled voice and deft songcraft have garnered acclaim from Rolling Stone, BBC Music, and No Depression. Her 2016 release Nine Pin won a Canadian Folk Music Award and sent her on an 18-month touring journey from Ireland to Iowa many as the opener for Rhiannon Giddens.  Kaia is currently working on her next album, due for release in early 2019. Take a listen to a new voice in roots, folk music.
General Admission
Doors open at 6:30/ Music at 7pm
pre-sale tickets- $17/ Day of Show- $22
Purchase tickets on Eventbrite
March 29th– An acoustic band born in the land of tech innovation, Front Country was unlikely to be accepted as an authentic American roots band out of the gate.  Cutting their teeth in progressive bluegrass jams in San Francisco's Mission District and rehearsing across the bay in Oakland, they fashioned their own take on roots music and Indie Folk, with the tools they had on hand.  A mandolinist with a degree in composition and classical guitar.  A guitarist trained in rock and world music.  A bassist equally versed in jazz and newgrass.  A violinist with technique that could seamlessly hop between honky tonk and electropop. And a female lead singer with grit and soul that was also a multi-instrumentalist and songwriter.  In a wood-paneled country dive bar in the shadow of the San Francisco skyline, Front Country forged a sound hell bent on merging the musical past with the future.  The result lies somewhere between Indie Folk and Americana, in a nether-region they've come to embrace as their own.
We LOVE Front Country at the Hall…it is a sound all their own from some pretty incredible musicians.  Their gritty lead vocals will draw you in and have you clapping for more.
General Admission
Doors open at 6:30/ Music at 7pm
Pre-Sale tickets- $17
Day of Show-$22
Purchase tickets on Eventbrite

March 30th- Americana-folk band "Hey Mavis" was formed as part of the Cuyahoga Valley National Park artist-in-residence program. Producer Don Dixon (REM/Smithereens/Red Clay Ramblers) "discovered" the group on a Christmas compilation CD and went on to produce their first two albums, both of which hit the top 10 on the national Folk DJ-L radio charts and amassed favorable reviews across the globe. Hey Mavis has appeared on NPR's Mountain Stage, NPR's Whad'ya Know?, and PBS's Songs from the Center. The group has performed standing-room-only shows at the Xerox Rochester International Jazz Festival as well as nine consecutive sell-out concerts in their hometown of Akron Ohio. In 2017. Always a good night when we welcome N.E. Ohio favorites, Hey Mavis back to the Hall.
General Admission
Doors open at 7:30/ Music at 8PM
Early Bird Tickets until March 1st-$15
Pre-Sale Tickets- $17
Day of Show- $20
Purchase tickets on Eventbrite
April 21st- Kim Richey-Two-time Grammy-nominated Nashville-based singer/songwriter Kim Richey, who "writes some of the most beguiling melodies and freshest chord changes of her generation" (Washington Post), and "has built a career on blurring genre boundaries and confounding listeners' expectations".
Richey, a former professional chef, got her first record deal at 37 and has garnered success as a songwriter, co-writing two number one hits; the Grammy-nominated "Believe Me Baby I Lied" for Trisha Yearwood and "Nobody Wins" for Radney Foster. Other songwriting contributions include songs for Dixie Chicks, Jim Lauderdale, Brooks & Dunn and Patty Loveless. Her vocals also appear on albums by Ryan Adams and Shawn Colvin.
General Admission
Doors open at 7:30pm/ Music starts at 8pm
Pre-sale tickets $20.00
At the Door tickets (if available) will be $25.00
Purchase Tickets on Eventbrite

May 26th- Caitlin Canty-Caitlin Canty is an American singer/songwriter whose music carves a line through folk, blues, and country ballads. Her voice was called "casually devastating" by the San Francisco Chronicle and NPR Music describes her songs as having a "haunting urgency."
Motel Bouquet, Canty's third record, features ten original songs that hold her darkly radiant voice firmly in the spotlight. Produced by Grammy-nominated Noam Pikelny (Punch Brothers) and recorded live over three days in Nashville, the album boasts a band of some of finest musicians in roots music, including fiddler Stuart Duncan and vocalist Aoife O'Donovan. Rolling Stone hails Motel Bouquet as "dreamy and daring" with "poetic lyrics and haunting melodies."
Since the release of her critically-acclaimed Reckless Skyline in 2015, Canty has put thousands of miles on her songs, circling through the U.S. and Europe. She warmed up stages for The Milk Carton Kids and Gregory Alan Isakov and recorded with longtime collaborators Darlingside and with Down Like Silver, her duo with Peter Bradley Adams. She won the Troubadour songwriting competition at the Telluride Bluegrass Festival, and her song, "Get Up," was nominated for Song of the Year in the Folk Alliance International Music Awards. Canty's original recordings have recently appeared on CBS's Code Black and on the Netflix original series House of Cards.
Raised in small-town Vermont, the daughter of a school teacher and a house painter, Canty earned her degree in biology in the Berkshires and subsequently moved to New York City. She spent her days in the city working as an environmental sustainability consultant and her nights making music at Lower East Side music halls and bars. In 2009, she quit her job and set out to make music full time. In 2015, she packed up her house plants and her 1939 Recording King guitar and drove to Nashville, TN, which she now calls home.
General Admission
Doors open at 7:30/ Music at 8pm
$17 pre-sale/ $22 day of show
Purchase tickets on Eventbrite
FAQs
What are my transportation/parking options for getting to and from the event?
Parking for the GAR Hall is located on the Southwest corner of Route 303 and Riverview directly South of the 303. Overflow parking can be found on the Southeast corner of 303 at Riverview Court or at Yellow Creek Trading Company at 1685 Main Street
How can I contact the organizer with any questions?
The office phone number is 330-657-2528
What's the refund policy?
full refund between 7-10 days prior to event
More information about these shows coming soon!
March 23rd- Andy Cohen and the New Florida Blues Band
April 15th- Sisters in Song

Please send all booking inquiries to karen@crookedrivercreative.com
Thanks so much to the Ohio Arts Council for their continued support of the Arts Programming at the Peninsula Foundation, including
Voices in the Valley
Words are not enough for all the gratitude we have for the countless people who have given to this program. You know who you are and Thank YOU so much! 

Jay Minkin for all his great press and support.  Check out his blog at minkinsmusic.wordpress.com